Decorating with framed abstract art opens up a world of possibilities. Whether you're looking for a massive image to dominate the living room or trio of smaller pieces to finish a hallway, FramedArt.com features an extensive selection of abstract artwork to meet every need. We have over 22,000 pieces in inventory, ranging from classic to contemporary. This page provides a preview of the collection, with lots of category and artist links, as well as a pair of artist video gallery previews.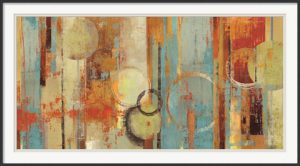 Abstract Categories
Our collection is organized into a set of concise categories to facilitate easy browsing. Start by choosing a specific category, then drill down by sizes and colors. This makes it a snap to find the ideal artwork. The fun's just begun when you've located the perfect piece because our FramedArt.com configurator allows endless experimentation with frames and mats.
Our list of abstract categories include:
Abstract Artists
 of Note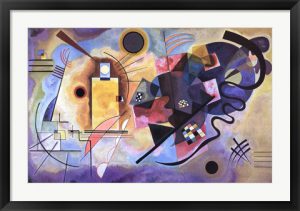 Abstract expressionism grew from the Surrealist movement, which began in the 1920s. Here's a short list that includes some of the most time-honored abstract artists in our collection:
Contemporary Abstract Artists
The abstract field is extremely popular today and contemporary artists are well-represented in our collection. There's something for every wall.  Mandy Budan's bold graphic landscapes and nature close-ups are filled with vibrant color and expressive linework.
Romero Britto's smile-inducing figurative style is considered neo-pop, while Silvia Vassileva's work is dominated by gorgeous landscapes and florals. Romero's style has graffiti-influences. Silvia draws inspiration from Pablo Picasso, French impressionists, Renaissance masters, and Japanese woodblock prints.
Megan Duncanson's whimsical and wonderful abstract nature prints are known for their high-contrast silhouettes with intensely saturated tie-dye-like backgrounds.  As legend has it, Tom Reeves' parents wanted him to be a lawyer, but his marvelous abstract acrylic paintings deliver serenity that could never be found in a courtroom.
Reference: Abstract Expressionism – TheArtStory.org