Buoyed by a plethora of topics and styles, chalk art is one of the hottest home decorating trends right now, and FramedArt.com hosts the Internet's leading selection of Chalkboard Artwork. Our growing collection includes a wide range of chalk art subjects. A vast number of entries represent the ever-popular kitchen and bathroom categories. You'll also find farmstead and inspirational chalk art, along with Christmas-specific and Holiday themed entries. Coffee, happy hour, and beach chalk art round out our expanding collection.
Chalk Art Categories by Room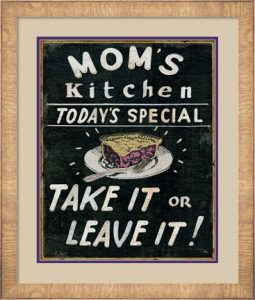 Kitchen Chalkboard Art 
The kitchen is an ideal room to decorate with chalkboard art, with a gigantic range of relevant categories. Produce, cheese and coffee are favorites, along with an endless selection of libations. If you're on a fruit and veggie kick, you're bound to love the ripe vine heirloom tomatoes, red patch wild strawberries, extra fancy string beans, and bunches of crisp, sweet carrots. Looking for a tall piece of typographic elegance to fill the spot next to the fridge? Veruca Salt's monochrome Pasta compositions are sure to inspire your appetite. Pela Studio's Mom's Kitchen brings it all home with today's special: take it or leave it!