Elephants are the most magnificent mammals to walk the face of the earth. They've inspired artists with their sheer majesty for generation after generation, from prehistoric times through the present. Our expanding collection of Elephant pictures contains a wide variety of pieces, with an extensive range of styles. The smallest artwork measures less than 12 x 12 inches and the most massive are as enormous as their subjects.
Popular Framed Elephant Pictures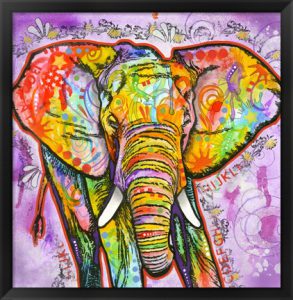 While our collection is light on cave paintings, you will find many of the selections rendered in the latest trend-setting styles. The first pair of our favorite large elephant pictures packs quite a punch.  We'll start with the wonderfully colorful pop art Elephant by Dean Russo. At a maximum size of 47 x 48 inches, it's as big and bold as can be. John Banovich's remarkable Power of One photograph (shown below), weighs in at 48 x 40 inches.