Craving some time on the course, but can't get away from the office? Our growing collection of golf art will let you take a five-minute vacation on the links without getting up from your desk! The collection contains a set of concise categories that make it easy to locate what you're looking for whether it's a gorgeous vista, retro poster, or a funny image. You'll find golf swing art, golf ball art, golf club art, and plenty of surprises.
Classic Golf Courses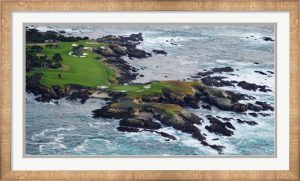 The Golf Course Art category includes over two hundred images from courses around the world, in an array of styles, from beautifully rendered paintings to crisp photographs. You'll find beautiful scenes from St. Andrews and Pebble Beach, along with many scenic views from courses in Arizona and Hawaii. Our selection of panoramic images is extensive.