Craving some time on the course, but can't get away from the office? Our growing collection of golf art will let you take a five-minute vacation on the links without getting up from your desk! The collection contains a set of concise categories that make it easy to locate what you're looking for whether it's a gorgeous vista, retro poster, or a funny image. You'll find golf swing art, golf ball art, golf club art, and plenty of surprises.
Classic Golf Courses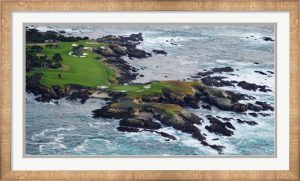 The Golf Course Art category includes over two hundred images from courses around the world, in an array of styles, from beautifully rendered paintings to crisp photographs. You'll find beautiful scenes from St. Andrews and Pebble Beach, along with many scenic views from courses in Arizona and Hawaii. Our selection of panoramic images is extensive.
Vintage Golf Posters
Our Vintage Golf Poster category contains nearly one hundred pieces of artwork that harken back to days of yore. The selections span the genre, from unfettered illustrations through highly stylized travel posters. This reproduction of a British Railways guide to St. Andrews is a marvelous addition to a man cave, den, or family room.
Motivational Golf Posters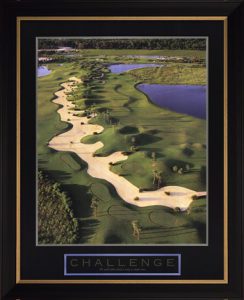 Motivational Golf Posters are always in demand. Challenge is an appropriate title for the seemingly endless serpentine sand trap that slithers across this treacherous fairway, bordered by water hazards. Keep your sand wedge handy. You're likely to need it.
David Marracco Golf Art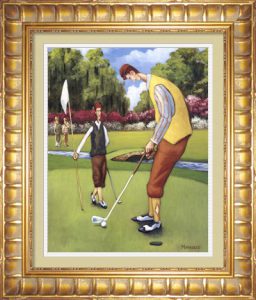 While a pitching wedge always comes in handy, a good sense of humor is the most valuable thing you can carry on the golf course. David Marracco's whimsical illustrations are bound to bring a smile to your face. David's lighthearted style and sense of the game put it all in perspective. Putting for Birdie is one of our favorites.
Jane Travelin Golf Art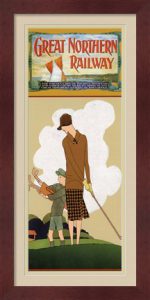 Jane Travelin's retro prints – Great Northern, Ravenscar, and Cedar Line – harken back to days past. This trio of elegant ladies golf prints pays homage to the elegance of travel and golf, with a delightful graphic style.
Norman Rockwell Golf Art
No one captures the moment like Norman Rockwell. You'll find a handful of gems including Blasting Out in our collection. Dad's sure to get out of the sand trap, sooner or later!