Black and white artwork is a superb choice for a wide range of rooms and decors. Whether you choose photographs or line art, monochrome artwork is elegant and crisp. Best of all, our artwork collection can be easily custom-finished. Whether you prefer a wrapped canvas or a framed traditional print, we offer a wide range of options.
Custom Finished Black and White Art Fits Any Decor
We make it easy! Some black and white artwork is best presented in a simple yet elegant black frame, while other pieces benefit from a silver frame. The FramedArt.com online customizer allows you to mix and match frames and mattes until you find the perfect combination.
Black and White Sports Photography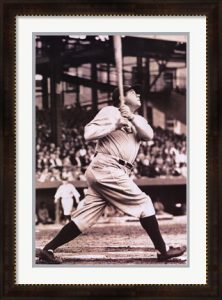 The FramedArt.com Black and White Sports Photography galleries host an extensive collection of B&W photos. We're honored to host the world's greatest sports stars from days past. The wide range of sports activities includes baseball, football, boxing, cycling, and bowling. If your walls are screaming for some retro cool, black and white sports photos are a sure bet. Stars include Babe Ruth, Lou Gehrig, Shoeless Joe Jackson, Joe DiMaggio, Jackie Robinson, and Muhammad Ali.