Buoyed by a plethora of topics and styles, chalk art is one of the hottest home decorating trends right now, and FramedArt.com hosts the Internet's leading selection of Chalkboard Artwork. Our growing collection includes a wide range of chalk art subjects. A vast number of entries represent the ever-popular kitchen and bathroom categories. You'll also find farmstead and inspirational chalk art, along with Christmas-specific and Holiday themed entries. Coffee, happy hour, and beach chalk art round out our expanding collection.
Chalk Art Categories by Room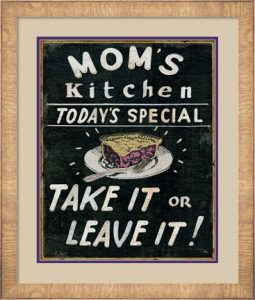 Kitchen Chalkboard Art 
The kitchen is an ideal room to decorate with chalkboard art, with a gigantic range of relevant categories. Produce, cheese and coffee are favorites, along with an endless selection of libations. If you're on a fruit and veggie kick, you're bound to love the ripe vine heirloom tomatoes, red patch wild strawberries, extra fancy string beans, and bunches of crisp, sweet carrots. Looking for a tall piece of typographic elegance to fill the spot next to the fridge? Veruca Salt's monochrome Pasta compositions are sure to inspire your appetite. Pela Studio's Mom's Kitchen brings it all home with today's special: take it or leave it!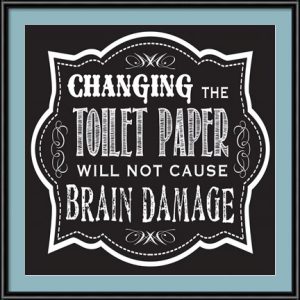 Bathroom Chalkboard Art
Melody Hogan is one of the most prolific chalkboard artists in the FramedArt.com collection, with a range of artwork that features whimsical styles, tones, and motifs. Her black and white typographic compositions consist of witty prose rendered with care and precision. "Life is like a bath. The longer in it, the more wrinkled you get." While some of the sayings might lean a bit toward the risquée, not one is in bad taste, bathroom humor being what it is …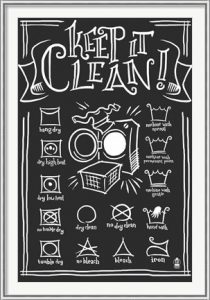 Laundry Room Chalkboard Art 
When it comes to home decorating, the laundry room often ends up with the short stick to go with the whisk broom, floor mop, and every neighborhood kid's muddy boots. Thankfully, the FramedArt.com gallery is packed full of fun chalk art for the laundry. As a case in point, Keep It Clean from Lantern Press goes beyond the merely amusing to the truly useful with a whimsical composition that serves as a roadmap to laundry symbols. If you've ever struggled to understand what the symbols mean on a laundry tag, this marvelous piece of laundry room chalkboard art will bring enlightenment.
Uplifting Chalk Art Categories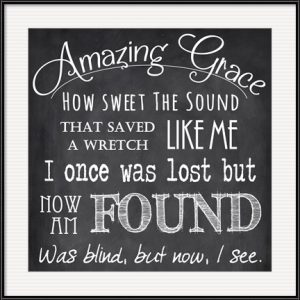 Inspirational Chalkboard Art 
Chalkboard art is chock full of inspiration in all shapes and sizes. The FramedArt.com gallery of religious chalk art originates with some of our most talented graphic artists, including Marla Rae, Veruca Salt, Scott Orr, Jo Moulton, and Tammy Apple. The selection includes The Lord's Prayer, The Ten Commandments, Corinthians 13:4-8 Love is Patient and Amazing Grace. "How sweet the sound the safe a wretch like me. I once was lost, but now am found. Was blind, but now, I see."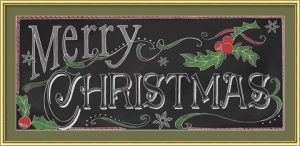 Christmas Chalkboard Art 
FramedArt.com's Christmas chalkboard art collection is up and coming. The pure black and white format play well with snowflakes and winter scenes. Erin Clark's typographic Christmas Chalk 1 can be ordered in either English or French. Her purely graphic Christmas Chalk 2 snowflake collection would look ideal in an apartment entry or hallway. Fiona Stokes-Gilbert's Chalk Merry features whimsical white lettering with a three-dimensional punch, accented by bright red and green sprigs of holly, along with a light sprinkling of snowflakes. A delicious candy cane-inspired border pops off the black background. Looking for a multi-piece set of Christmas art? Andi Metz's Noel Chalk Art series pops with color and Victorian style.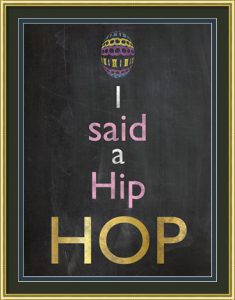 Holiday Chalkboard Art 
Chalkboard art isn't just for Christmas!  Louise Carey's bold graphic Halloween piece is rendered in orange, purple, white and green word art, punctuated by whimsical graphic ghouls. Lauren Gibbons' Red Chalk Love is a tasty treat for Valentines Day and her Easter Hop offerings jump with purple and gold.
Fun Chalkboard Art Categories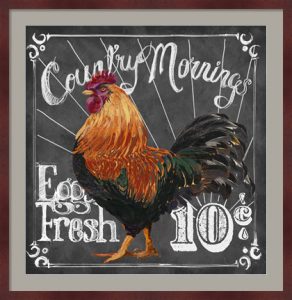 Farmstead Chalkboard Art 
Chalkboard farm-themed artwork delivers a down-home touch, with livestock and produce well represented in our chalk art collection. You might want to browse the lovely selection of flower chalkboard art from Tre Sorelle Studios to kick things off. If you're looking to add a whole lot of cock-a-doodle-doo to your kitchen, Art Licensing Studio's four-piece Rooster on Chalkboard collection is a winner! It features a marvelous quartet of manly birds strutting their stuff in full glorious color. Check out Redstreake for their brilliant selection of color livestock, as well.
Beach Chalkboard Art 
Life's a Beach and Jim Baldwin's Beach Rules sums it all up concisely … "Relax and Chill. Bad Attitudes Not Acceptable. Be Casual. Wear Flip Flops. Soak Up The Sun. Laugh & Smile Often. Take In The Breeze. Play In The Sand. Make Memories." Cindy Fornataro's mixed medium Get Your Tail to the Beach splashes a big dash of color and is one of the most popular pieces in the collection. Whether you're vacationing in the Hamptons, the Jersey Shore, Cape Cod, the Carolinas, or the Redneck Riviera, beach sign decor is the way to go.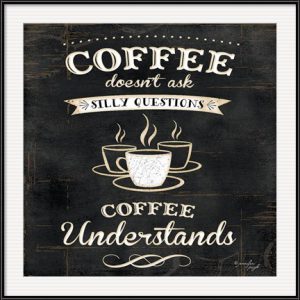 Coffee Chalkboard Art 
The coffee chalkboard art category is bursting with delightful selections. Lisa Audit's colorful Fresh Coffee makes a heartfelt statement, "Coffee & friends are the perfect blends," while Jennifer Pugh sums it all up with a simple thought. "Coffee doesn't ask silly questions. Coffee understands." Mary Urban's crisply rendered monochrome Expresso Your Mind pops off the page with a simple yet eye-popping 3D style, while her Love You a Latte will have you salivating for a nip of the biscotti. Whether displayed in a kitchen or a cafe, FramedArt.com's collection of caffeine-fueled chalk art delivers a high octane kick.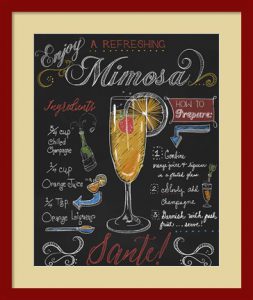 Happy Hour Chalkboard Art 
Whether your drink of choice is beer, wine, champagne, or Shirley Temples, the FramedArt.com chalkboard gallery has it covered. Fiona Stokes-Gilbert's Mimosa, Martini, Margarita, and Mojito renderings will delight cocktail fans with their whimsical style and precise recipes. Entertaining tots or teetotalers? Every member of Grace Popp's Summer Drinks series features a vibrant full-color glass of lemonade. They burst from a chalkboard background that also features a hand-rendered recipe, each one more delicious than the next. Our extensive list of mouth-watering bar chalk art is sure to please the most discerning guest.