Pantone's color experts travel the globe looking at color.  They synthesize art, fashion, and socio-economic influences to arrive at a color that reflects the upcoming year's creative mood. For the first time, Pantone selected two colors for their 2021 color of the year. Unlike the blues and corals of the past two years, 2021's colors are Ultimate Gray and Illuminating (yellow).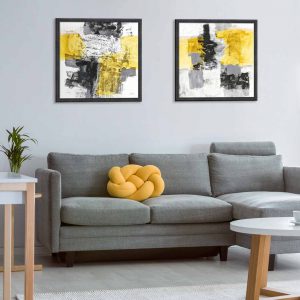 The two colors represent the yin and yang of the new year. Individually, they bring a sense of strength and a feeling of optimism. Combined, they reflect life's ebb and flow. They illustrate the resilience of the human spirit that continues to see the light at the end of any tunnel. Why not show your resilience by bringing Pantone's 2021 colors into your living space?
Start with Your Doorstep
Paint your front door yellow. Although a yellow door is a perfect match for a gray exterior, it also fits beautifully with darker shades of green, brown, or red. Pairing a yellow door with a navy blue exterior makes for eye-catching curb appeal.
Brighten an Entry
Why not replace that entryway mirror or letter art with framed art? Bring in nature with a Golden Fall Cuttings Print. The vibrant gold contrasts with the multiple shades of gray to create a focal point for your entry.
Make a Seating Statement
Start with a simple yellow chair or dive in with a golden loveseat or sofa. Then, add gray contrasts by incorporating throws, pillows, or framed art. Placed on a wall above a couch or chair, an abstract such as Grey Movement IV carries the eye up, adding movement to a static seating arrangement.  
Upgrade a Home Office
If you're tired of having coworkers look at blank walls during Zoom meetings, try adding framed art. Spruce up your office with a fresh coat of gray paint. Place calming landscapes such as Siena Abstract in Yellow and Gray on the wall behind your desk. Enjoy the space when alone by downloading your favorite music.
Add Pops of Color
Pops of color usually translate into throws, pillows, and coverings. A yellow-gray quilt or a gray and yellow striped pillow can definitely add color to a neutral decor. Framed art can add color and serve as a conversation piece.  Take this Open Arms Gold print. Its layers of shadowy gray trees contrast with the yellows of the branches, making for a soothing blend of the 2021 colors of the year.
Create an Accent Wall
Use the optimistic Illuminating to create an accent wall. Add a few gray floating shelves and a collection of framed art in shades of gray. Mix in a few prints with a touch of color, and you have the perfect representation of yin and yang.
Ultimate Gray can also make a striking accent wall. In a room of subtle gray, adding a dark gray wall makes the perfect backdrop for a wall collage of pictures and prints in yellow hues. Let the wall represent all that keeps you grounded.  
Embrace the Yin and Yang
Pantone's 2021 colors encourage us to embrace life's cycles, recognizing that resilience is born out of strength and hope in a brighter future. Art combines those seemingly contradictory attitudes of dark and light to remind us of where we are going and where we have been. Why not take a moment to explore the artistic representations of the yin and yang in your life?