James Byron Dean was born on February 8th, 1931 in Marion, Indiana. Although Dean's life spanned a mere twenty-four years, his impact on American culture is monumental. He left this world on September 30, 1955, when his Porsche Spyder collided with a Ford Tudor sedan in Cholame, California, roughly halfway between Los Angeles and San Francisco in a tragic car accident.
The FramedArt.com galleries contain many pieces of custom framed James Dean artwork, including movie posters, photographs, and tribute paintings.
James Dean Movie Posters
While his career spanned just three motion pictures, James Dean's legacy will live forever.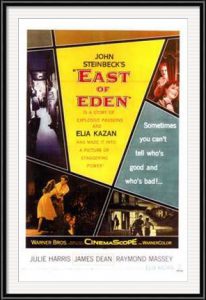 East of Eden was the only movie to be released prior to James Dean's untimely death. The film was based on the acclaimed John Steinbeck novel and directed by Elia Kazan. Dean earned a Best Actor nomination for East of Eden, while Kazan was nominated for Best Direction. The film nabbed a Golden Globe award for Best Picture. Jo Van Fleet earned an Academy Award for Best Actress in a Supporting Role, as well.