Norma Jeane Mortenson was born on June 1, 1926 into a broken home in Los Angeles, California. She married three times, the first at just sixteen years of age. Her first husband, Jim Dougherty, was a neighbor. The marriage didn't last long. After a brief stint as a model, Norma Jeane changed her name to Marilyn Monroe and had her first taste of Hollywood fame in The Asphalt Jungle (1950). FramedArt's selection of Marilyn Monroe prints spans her career. No star has ever burned as brightly, before or since.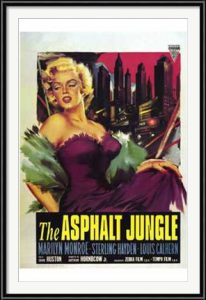 While Niagara (1952) marked her first starring role, It was Gentlemen Prefer Blondes (1953) that forever changed the game.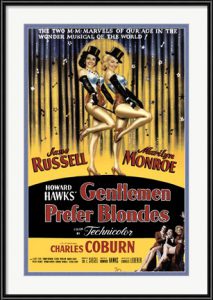 In 1954, Marilyn wed Joltin' Joe DiMaggio, one of the greatest New York Yankees of all time. The marriage soon ended, but Marilyn and Joe remained close. She subsequently married Arthur Miller, the great American playwright, in 1956. They divorced in 1962, not long before her untimely death.
Our Collection of Marilyn Monroe Prints
FramedArt.com's extensive archive of Marilyn Monroe prints is organized into two categories: Marilyn Monroe Posters and Marilyn Monroe Pop Art. While the poster category is wide-ranging, as you'll see, the Pop Art collection is far more focused. Andy Warhol, the Granddaddy of All Things Pop, is a source of everlasting inspiration. If you're looking for authentic Andy Warhol/Marilyn Monroe prints, you'll want to check out our sister site, FulcrumGallery.com. And if you're ever in Pittsburgh, you'll definitely want to visit the Andy Warhol Museum. 
Marilyn Monroe Photographs
You'll find an extensive selection of iconic black and white photographs of Marilyn throughout her career in the Poster category. Photographers include Sam Shaw, Ed Feingersh, Bert Reisfeld, Erich Hartmann, Matthew Zimmerman, Philippe Halsman, and Milton Green. Many of these prints are in stock and ship within one to two days.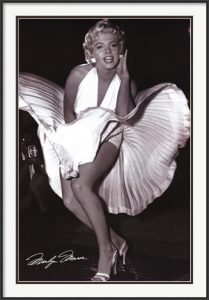 Matthew Zimmerman's iconic photograph from The Seven Year Itch (1955) is offered in multiple sizes.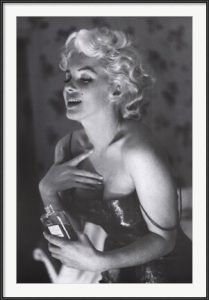 Ed Feingersh's photograph for Chanel No. 5 is a timeless classic.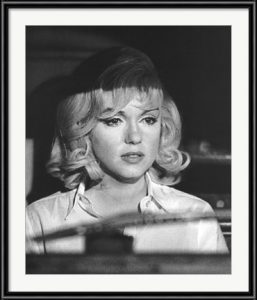 Eric Hartmann's black and white photograph of Marilyn Monroe from Misfits (1960).