Kids of all ages love prehistoric creatures and the FramedArt.com dinosaur artwork collection includes an ever-growing flock of whimsical illustrations in a wide range of styles. In this installment of the Gallery Tour Blog, we'll dive into the archives in search of multiple image sets from of our favorite artists that produce dinosaur art for children. This tour highlights our website's interactive custom framing and matting tool's ability to mix and match materials and colors to every room's decor. Clicking on the artist's name will bring you to their complete collection while clicking on the artwork will bring you directly to that specific piece. You'll find endless possibilities …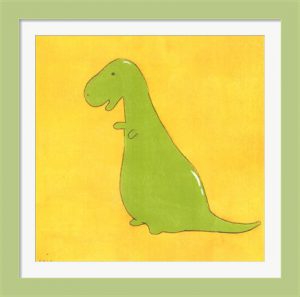 The Dinosaur artwork collection from June Erica Vess includes graphic illustrations of the ever-popular Stegosaurus, Triceratops, T-Rex, and Brontosaurus rendered with bright primary colors in a cartoon-like style. Her Playtime Dino series is equally fun with less vibrant colors and her playful Rub-A-Dub Dino series is ideal for display in a children's bathroom.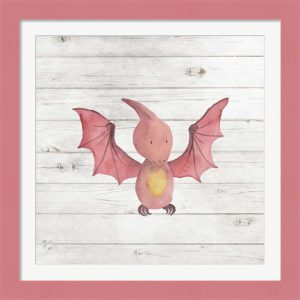 A light grayscale wood plank pattern serves as the perfect background for Tamara Robinson's Water Color Dino series. The illustrations are light and playful, with just enough brushwork and detail to pop from the frame. This series is a great choice for younger kids bedrooms. Little girls love dinos, too!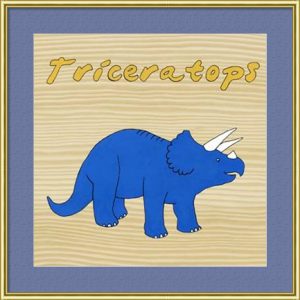 If you're searching for a set of dinosaurs with a slightly rustic motif, Megan Meagher's woodgrain-patterned Dino Series provides a unique spin, with the Triceratops, Stegosaurus, Pterodactyl, and Brontosaurus rendered as graphical line drawings featuring solid primary color fills.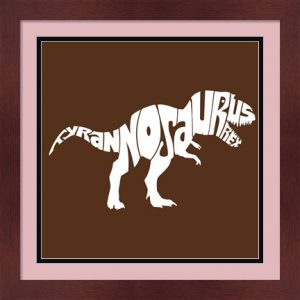 Well-executed Word Art never goes out of style. LA Pop's Dino Word Series includes the Tyrannosaurus Rex, Stegosaurus, Brontosaurus, and Pterodactyl in white silhouetted word graphics over solid colored backgrounds. LA Pop's set is a good choice for tweener dino-aficionados.
Serena Bowman's playfully rendered Lil Blue Dino and Lil Purple Dino are the perfect pair to choose for wee dinosaur fan bedrooms. Rendered in watercolor with soothing pastel hues and whimsical style, these happy creatures will bring many a sweet dream. You'll want to check out Serena's Baby Dino Mytes series, too!
Mia Russell's dino artwork is fun and airy, with light pastel colored washes and whimsical pen work. We offer five pieces from the collection: Brachiosaurus and the Red Balloon, Miss Pink Stegosaurus and Blue Balloon, Three Scoops for Mr. T (Rex), Blue Stegosaurus with Orange Balloon, and Mr. Triceratops Flies a Kite.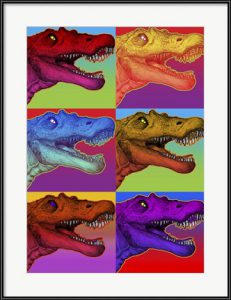 Howie Green's unmistakable pop art sensibility is infused in a trio of brilliantly colored dinosaur artworks. His "Pop Art Dinosaurs" series shows the influence of Andy Warhol's step-and-repeat work with bright fluorescent colors along with its vibrant gradients and three-dimensional detail.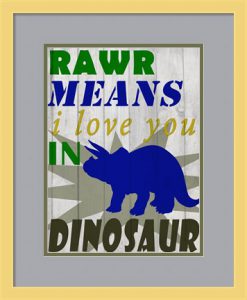 Denver-based Kimberly Allen's creates fun and purposeful word art. With bold blue and green silhouette graphics Kimberly's Wash, Flush, and Brush dinosaur artworks are wonderful graphic reminders for the kids' bathroom. A set of complimentary works continue the polka-dot background patterned motif, without the word art.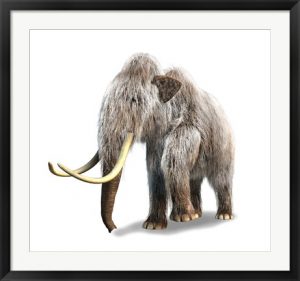 Leonello Calvetti's photorealistic three-dimensional renderings that portray a wide range of dinosaurs on stark white backgrounds with cast shadows. Species include the Albertosaurus, Brachiosaurus, Cryolophosaurus, Coelophysis, Iguanodon, Herrerasaurus, Triceratops, Wooly Mammoth and Velociraptor. These remarkable 3D dinosaur renderings will appeal to prehistoric artwork aficionados of all ages.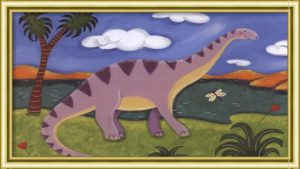 Sophie Harding's Baby Dino series is a marvelous choice for kids rooms, from the nursery on up. The FramedArt.com collection offers four adorable tiny pieces from the series: Baby Izzy the Iguanodon, Baby Steggy the Stegosaurus, Baby Timmy the Triceratops, and Baby Dippy the Diplodocus (shown above).