Mothers are darlings. Their love, care, and dedication are beyond description. Even if we spent the rest of our lives appreciating them, it wouldn't match the sacrifice and commitment they put in to make us who we are today. Nonetheless, Mother's Day is an excellent opportunity to express our gratitude and honor towards these amazing individuals. Even though most mothers will receive your gift with a 'you don't have to do this' remark, they sure do appreciate them.
Unique Wall Art Gifts for Mother's Day
Need ideas for thoughtful and memorable gifts for Mother's Day? Here is a quick guide on some unique wall art gifts for Mother's Day.
Flower Art for the Florist/Gardener
Does she love flowers? Maybe she has a beautiful flower display flanking her entryways, sidewalks, or even at the backyard garden. Flowers induce happy feelings and are in every way therapeutic, which explains why she doesn't have enough of them. 
Sending her a banquet of her favorite blossoms may not mean much since she probably has a surplus of them in the garden. But framing her passions in flower art will show her how much you appreciate her. This could be a portrait of a beautiful flower garden to inspire her, or you can take a good shot of her blossoms and send it to us for framing.      
Kitchen Art for the Entertainer
If she loves to cook and entertain, consider gifting her with art that accentuates her passion. It could be a beautiful quote, a photo of the family and friends gathered around the table, a recipe for her favorite dish or cake, etc. 
She will probably hang it in the kitchen or the dining area, depending on the art's content. In that case, ensure the frames and the art prints' design blends well with the target room's decor.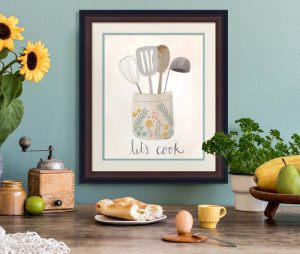 Framed Fashion Art for the Fashionista
A fashionista's tastes are always in a class of her own. You might think buying her one of the trendiest shoes or handbags will cause the same enthusiasm she exudes when watching a fashion show, only to be met with a 'what-have-we-got-here?' attitude. Their tastes are as unique and unpredictable as fashion trends, so it's safe to stay out of fashion apparel gifts unless they specifically express interest. 
Nonetheless, you can still wow her with a thoughtful portrait of fashion art. Spruce in some thought-provoking fashion-related words or images, and they'll surely appreciate. If they have a favorite color, make it predominant in the art prints, and they will love it even more.    
Framed Coffee Wall Art for the Coffee Lover
Maybe you have gifted her coffee mugs before with her name engraved on them. You can take a go at it once again. But this time, consider framing a portrait with words or images that will make them smile whenever they settle down for their favorite drink. You can even add some more personal touch to it by including their favorite coffee joke.
Where do they prefer to take their coffee? Have the art frames and the canvas painted in a color and design that fits perfectly into the rest of the decor.     
Framed Art Gift for the Avid Reader
Does she love losing herself in her books? Gifting her the newest book from one of her favorite authors can get her over the moon with excitement. If she prefers reading digital books or wouldn't mind exploring the new experience, buying her a digital book reader like Kindle may also be an excellent idea. 
Alternatively, you can get her a portrait with an image or words that fan her passion. If the portrait feeds her desire to relax down and enjoy some good reading, rest assured she will appreciate it.    
Personalized Family Portrait
A mother always feels excellent about her family. Whether it's her kids or grandkids, mothers cherish every fond memory of them. There's no better way of keeping those memories fresh in her mind than gifting her with a wall art portrait of her with her kids/grandkids. You can even inscribe a message to make it more personal, and she'll love it all the more.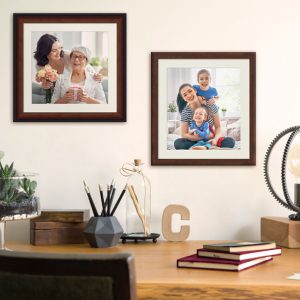 Key Takeaway
Every year allows us to appreciate the mothers in our lives and show them how much they mean to us. While some gifts are seasonal, which is perfectly fine, gifting mothers with wall art gifts can create lasting memories as the artwork will always flank their walls. One advantage of artwork gifts is that they can be customized to match their passions. Again, you can have the art prints framed or get them on a canvas. 
At FramedArt.com, we have a vast collection of wall art to suit the passions of every mother out there. Moreover, we can help you customize your ideas to personalize the gifts. To do this, visit the My Framed Photos section, upload your pictures, and we will have the artwork framed and delivered to you. Alternatively, check out our framed gift collections and gift ideas for her collections to sample and order your gifts.