Laundry isn't usually number one on anyone's preferred list of things to do. While doing the laundry is more of a have-to than a want-to, that doesn't mean your laundry space can't be as beautiful and full of personality as the rest of your home. In fact, it may be the most important area to add a little pizazz, so the time spent there is more enjoyable. There are many things to consider when sprucing up your laundry room. 
Ways to Spruce Up Your Laundry Room
Wall Color
When deciding the color of the walls of your laundry room, you will want to consider the following:
Size

. Lighter colors make a room feel larger, while darker colors create a cozier space. 

Light

. Most laundry rooms don't have windows. Choosing a paint with a higher light reflectivity will make the best use of the available lighting. 

Design.

Do you want your laundry room to have the same design scheme as the rest of the home? If so, stay within the color wheel of the rest of your home. However, your laundry room is a more private space, not typically seen by guests. You may choose for this space to be more expressive than the rest of the home with a personality of its own. 
Personality
The personality of your laundry room will primarily be determined by the art and accessories you choose.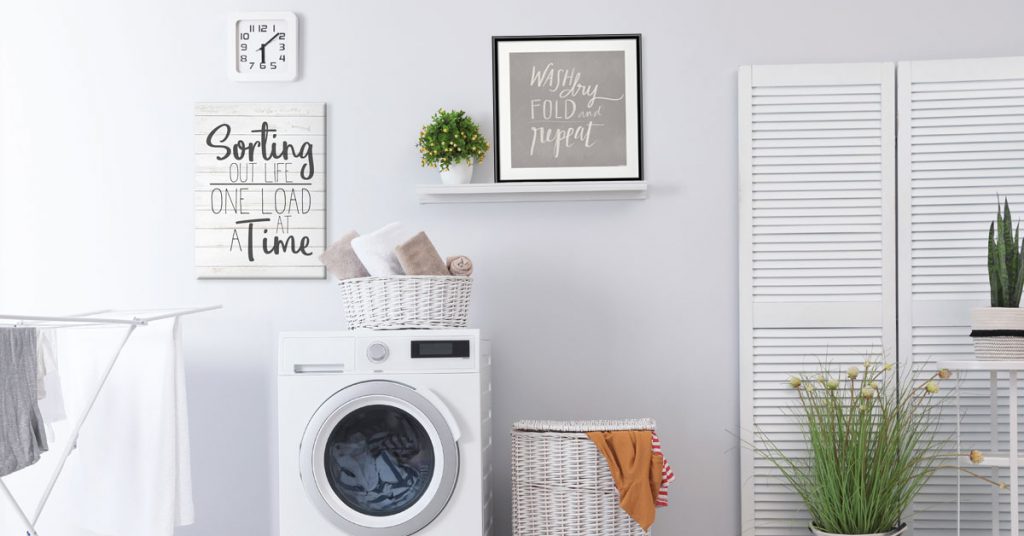 Vintage
The vintage decor may include interesting colored glass bottles with vintage labels for your laundry supplies placed on metal or aged wood shelves. Artwork that is either whimsical or classical is a great addition to create the type of vintage design you prefer. 
Black and White
Words aren't always needed to make a statement. A bold black and white laundry room can make a statement without saying a word. Wall art choices for this design are simple yet elegant. The basic color palette lends both sophistication and fun to this laundry room design. 
Vibrant
Prefer a little playfulness in your laundry room decor? A bright white wall color creates a perfect backdrop for bold splashes of color with brightly painted cabinets or shelves and vibrant, playful artwork.
Rustic
Your laundry room is a great place to harken back to the good old days without giving up modern conveniences. Raw wood shelves, rustic cabinet hardware, and wall art that take you back in time while making you appreciate the modern-day are a fun design for your laundry room. 
Peaceful
In a hectic household, doing laundry may also provide you with those precious moments of quiet solitude. A peaceful laundry room may include beachy blues, greens, sandy beige. Jars and bottles that evoke the sea glass look and feel. The artwork should also be simple and soft, providing a backdrop of serenity. Sometimes it's the least likely place that offers the best oasis. 
While there are many ways to design your perfect laundry room, the best way is your way. Your way will be totally different from any other design in any other home — and that's what makes it perfect. 
How Do I Choose?
With so many design options, it can be confusing. One of the easiest ways to decide what captures your imagination is to browse the laundry room art collection at Framedart.com. Take note of what style consistency grabs your attention, consider how it fits with the rest of your home, or if it needs to fit at all. What wall and accent colors coordinate well with your choices? Is a theme evolving?  No one does you quite like you. Your perfect laundry room is waiting for you. At FramedArt.com, we're here to help.