Our April 2019 event is coming up fast! We're excited to be a part of the Rohrer New Venture Competition & Expo, taking place on Friday, April 12, at Rowan University.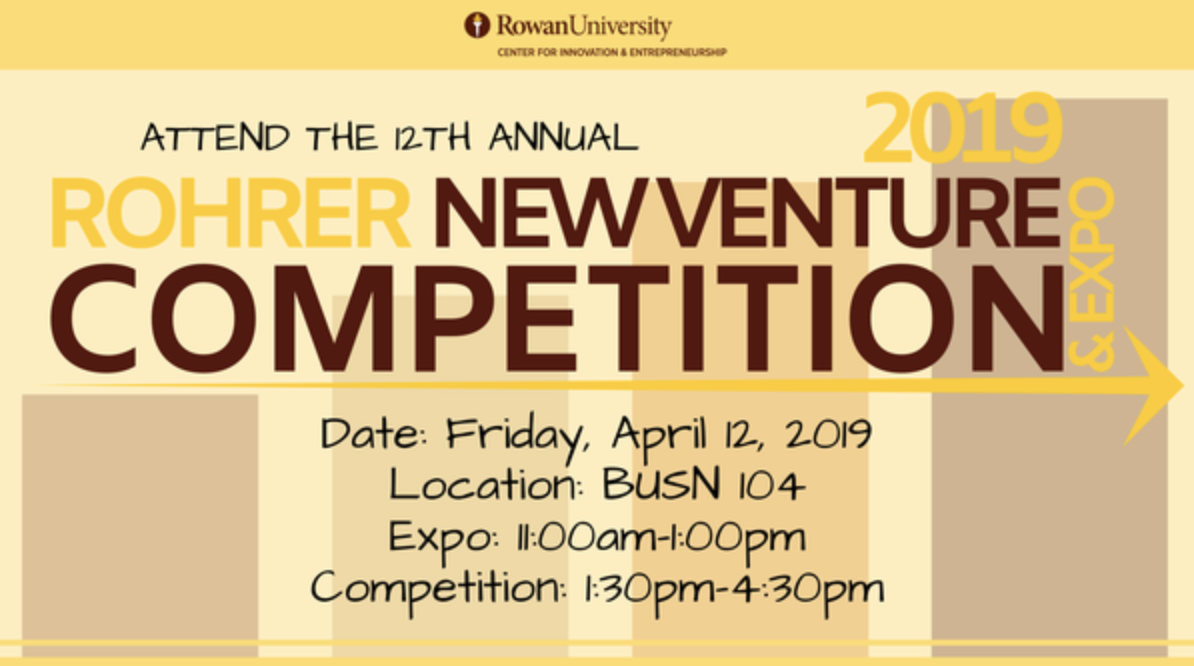 About the Competition
The Rowan Center for Innovation and Entrepreneurship will host it's 12th Annual New Venture Competition. This event features five finalist student companies who will pitch their business plans to a panel of expert judges including Linda Rohrer, President of Rohrer Real Estate, Joseph Cosgrove, President and CEO of Pentec Health, Inc., Christopher Greco, Executive Vice President of Ginsey Home Solutions, and Phon Malone, Founder and CEO of Revel Nail.
Leading up to the event, Rowan students go through weeks of workshops, preparations, and mentoring to fine tune their business propositions. The results are nothing short of amazing!
The day is broken into two parts: the Rohrer New Venture Expo from 11am-1pm, and the Rohrer New Venture Competition from 1:30-4:30 pm. The RCIE will host its first ever New Venture Expo featuring 50 idea stage student startups.
3 Challenging Phases
In order to compete in the New Venture Competition, students submit their business ideas and participate in a series of workshops leading up to the competition. 29 companies applied and have since been narrowed down to the final five who will pitch to the panel in hopes of winning 1st place and $4,000 in seed funding.
This Year's Prizes
New Venture Competition prizes:
1st Place: $4,000
2nd Place: $2,000
3rd Place: $1,000
Intuit Education Best Projected Financials Award: $1,000
Honorable Mentions (2): $250
New Venture Expo prizes:
Judge's Vote Best In Show: $100/student
Best Pitch: $50/student
Most Promising New Venture: $50/student
Best Brand Identity: $50/student
Honorable Mention Certificates (2)
People's Choice: $75/student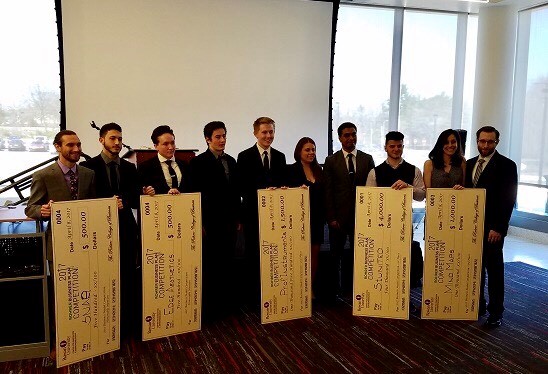 The New Venture Competition will feature the five finalist teams, and they will present their business plans to the following panel of judges:
Linda Rohrer: President, Rohrer Real Estate
Joseph Cosgrove: Chairman, President and CEO at Pentec Health
Christopher Greco: Executive Vice President, Ginsey Home Solutions
Phon Malone: Founder and CEO, Revel Nail
The Art Portion
This year, FramedArt.com will be donating both printing and framing services for student artwork required for the Art portion of the competition.
The New Venture Art Expo is an exciting component taken on by students enrolled in Graphic Design 2. The typography developed for the series of posters is part of their ongoing study of the typographic form. So much of the world focuses on images to convey information and emotion, so the visual marketing developed by these students is key. Students are charged with creating a powerful and memorable message through their choice of typeface and color. Professor Jan Conradi in Rowan's Department of Art will work with students and spur on their creativity.
Prizes:
$300 for 1st Place
$200 for 2nd Place
$100 for 3rd Place
Students Competing in 2019
FramedArt.com is proud to print and frame the typographic creations of the following students:
Alexis Beaton
Sophia Bischoff
Ryan Bulza
Alison Carella
Amy Coombs
Theresa Egan
Cassidy Greene
Autumn Ingram
Taylor Moore
Jaclyn Pasierb
Ryan Payne
N'Ya Phillips
Jerrell Richardson
Robyn Schulman
Rachelle Sher
Benjamin Vogt
FramedArt.com wishes the best of luck to all of the competitors in this year's competition! Thank you for letting us bring your amazing art to life!