Let's kick it off with a quick trip to Miami Beach! Our selection of framed Miami art includes well over a hundred renderings in a wide range of styles. The gallery features an extensive selection of panoramic photographs of Miami and Miami Beach, with cityscapes, beach scenes, and many compositions that depict the region's classic neon-lit hotels. Notable artists include Didier Lourenco, Maria Lobo, Marlene Watson, and Kimberly Allen, with photographs from Jerry Driendl and Fred Grams.
Here are ten of our favorite pieces of Miami Art:
Vespa in Miami by Didier Lourenco
This whimsical "Vespa in Miami" print is one of a handful of images by Didier Lourenco in our Miami Art gallery. A pair of tourists wowed by Miami Beach's architecture, ride past the city's most famous Art Deco hotels, while the occupants of a convertible in the next lane look aghast at the Vespa pilot's inattention to the road ahead. If you're a fan of Didier's humorous style, you'll be pleased to know that the FramedArt.com gallery contains over eighty pieces of his artwork.
Miami City Palms Scene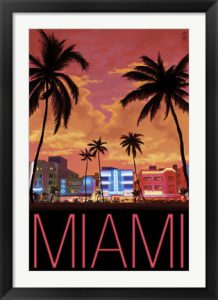 The Miami City Palms Scene by Lantern Press features the city's most famous neon-lit Art Deco hotels, with a dramatic sunset in hues of orange, red, and gold. Starkly silhouetted palm trees frame the image, with a huge neon-orange MIAMI anchoring the composition. It's the most compelling tropical travel poster in our Miami Art gallery.
Miami by Maria Lobo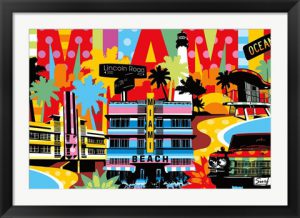 Miami by Maria Lobo is a pure pop explosion in bright primary colors. This big bold graphic print includes art deco hotel landmarks, beaches, a lifeguard shack, and a classic Cadillac, with a healthy dollop of palm trees and polka dots. Cities are one of Maria's favorite subjects and the FramedArt.com gallery includes more than two dozen delightful pieces that take the American Pop Art genre to the next level.
Miami Beach by Color Bakery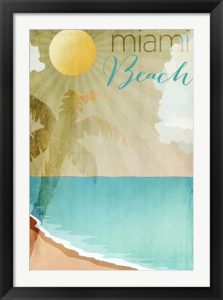 Kick off your flip-flops and stay a while! Miami Beach by Color Bakery is a warm and inviting travel poster with a laid-back graphic style. The predominant hues are aqua, salmon, tan, white, and gold, with smooth sweeps of color and transparency. The see-through palm tree at the water's edge provides depth, while a juxtaposition of lower-case san-serif and hand-drawn script typography adds the perfect touch.
A Splendid Day at Miami Beach
Stare long enough at this delightful panoramic photograph and you'll hear the soothing sound of the waves breaking on the beach. The Atlantic Ocean stretches to the horizon in delicious aqua hues and billowy clouds above. A storm might be rolling in, but the folks on the beach are determined to soak up the sun in the meantime.
Blue Watercolor Miami Skyline
The Miami skyline is rendered with dramatic style in this abstract graphic watercolor work by Naxart. Stark blue skyscrapers rise from the waterfront in a composition dominated by dark blue, green, aqua, and purple, with a smattering of red as reflected by the water. Linear graphic lines intersect the deepest colors, as they scratch through the sky, while multi-hued spatters mimic the spray of a passing cigarette boat.
Miami Beach Hotel Neon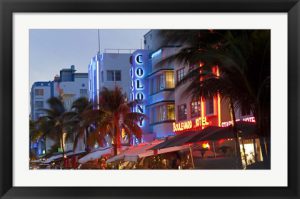 Miami Beach is world renown for the Art Deco hotels along Ocean Drive and this splendid photograph by Panoramic Images shows them up close and personal in all their neon glory.When lit up at dusk, Miami Beach's hotel take on a magical air. This image delivers a tight angle on the Colony's cool blue backlit marquee, along with the Boulevard Hotel's bright red neon.
Neon-Lit Buildings at Dusk, Miami, Florida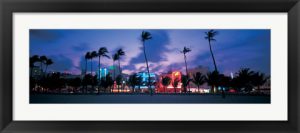 The second piece in our list of Miami Art from Panoramic Images is a dramatic wide shot of hotel row, shot from across the beach. Miami Beach's most famous Art Deco hotels are lit up at dusk, against a stunning purple sky, in an oasis of neon. A stiff wind from the south whooshes through the starkly silhouetted palm trees lining Ocean Drive.
Miami Beach Lifeguard Shack
The sun sets on Miami Beach after a long day, with a sky filled with muted purples and blues in this brilliant photograph from Panoramic Images. While the beachgoers have packed up and gone for the afternoon, the ever-present red and white lifeguard shack stands watch, as it waits for the tomorrow's sun worshipers.
The Carlyle Hotel, Miami Beach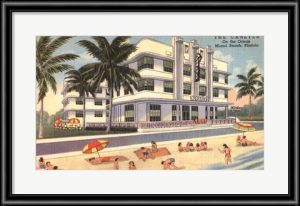 This quaint 10×7 print of Miami Beach's classic Carlyle Hotel is filled with whimsy and retro flair. Sun worshippers frolic and bask in the warmth of the South Florida sun, on the strip of sand between the Carlyle and the Atlantic Ocean. A warm and muted cartoon-like color palette adds to the vintage feel. If you have a powder room with a Miami, Florida art motif, this little print of the Carlyle Hotel is a must have.
No one covers the coast like FramedArt.com. Check out our collection of Miami artwork today!