There is probably no home decor style more historical and patriotic than Americana. But Americana decor isn't just about flags and mixing up a bunch of red, white, and blue. It is a timeless celebration of our traditions and geography. In fact, it never goes out of style because it is rooted in our culture and history. It is also about family, patriotism, values, as well as diversity. 
From farmhouses to cowboys to Native Americans, Americana decor will allow you to display pride in the past, no matter what your history is. Other types of Americana might be nautical, primitive, or even the classic, fun styles of the 1950s.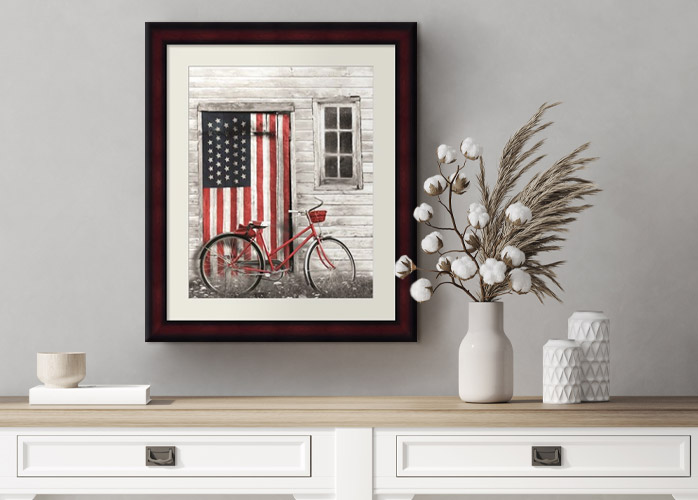 How Do I Incorporate Americana Decor?
Since this design element is casual and seemingly effortless, the design lines may be a little fuzzy. There are no hard and fast rules, but there are ways to add more Americana flare to your home decor. Using subtlety in your decorating will allow pieces to be moved from room to room if you want a little change.
1. Accents of Red, White, and Blue
2. Mix it Up
3. Use Vintage Advertising
4. Consider Americana Symbols
Where are the Best Places for Americana Art?
Americana design transports us to a nostalgic time when the love of country and pride of heritage were very important. You can incorporate this design into every room of your home. It's easy to find framed Americana art for the home office, living room, and bedroom. So we are offering a few suggestions for the other rooms in your home to help get you started.
Still need ideas? Check out these other design ideas to create an Americana style for your home. Browse our huge selection of framed wall art to find the pieces that are right for your home.