Designing a wall full of travel art is fast, fun, and easy with FramedArt.com! Our archives include a coast-to-coast collection of US National Park Posters along with a huge number of panoramic national park photographs. Pay tribute to America's most famous vistas with a National Park Poster!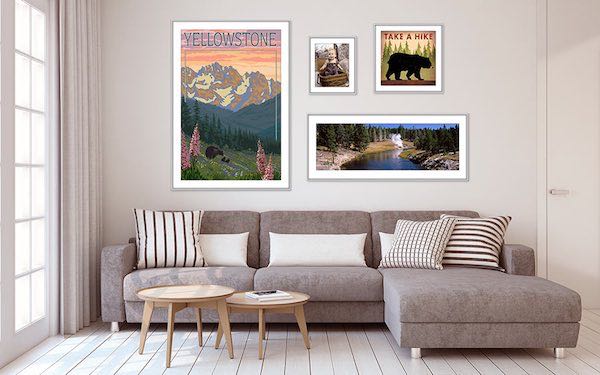 Eastern National Park Posters
Scenic views and recreational opportunities abound from Maine to Florida. Here are a few of our favorites …
Great Smoky Mountains National Park Poster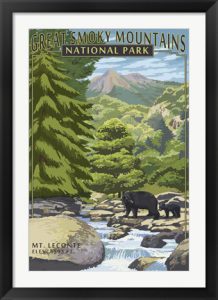 Great Smoky Mountains National Park is located in the states of North Carolina and Tennessee. It was established in 1934 and is the most popular National Park in America. The Appalachian Trail runs through the park, which spans over 800 square miles.
Everglades National Park Poster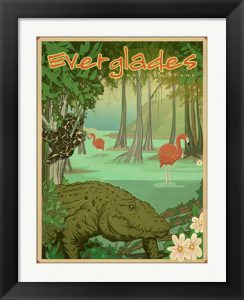 Everglades National Park is located in the state of Florida. It is the third largest National Park and the largest wilderness area east of the Mississippi River. Established in 1947, Everglades spans over 1,500,000 acres.
Acadia National Park is in a unique coastal location, southwest of Bar Harbor, Maine.  The park encompasses a number of islands, as well as the mainland. Established in 1916, Acadia is the oldest park in the system east of the Mississippi River.
Western National Park Posters
You'll find America's most famous national parks west of the Mississippi River …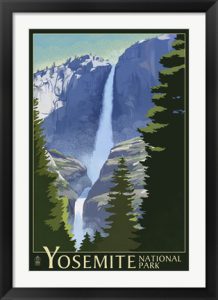 Yosemite National Park spans close to 1,200 square miles and is located in California's western Sierra Nevada mountain range. Established in 1864, Yosemite is one of our oldest national parks. Its spectacular vistas include Bridalveil Falls, El Capitan, and Half Dome. Yosemite's towering sequoia tree forests are an ancient wonder.
Yellowstone National Park Poster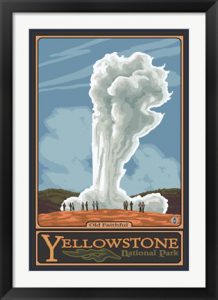 Established in 1872, Yellowstone National Park was the first national park and is primarily located in the state of Wyoming, with portions of the park in Montana and Idaho.  The park is known for its hot springs, geysers, canyons, and forests. Plan to spend plenty of time, as the park is massive, spanning nearly 3,500 square miles. Old Faithful is a must see.
Grand Canyon National Park Poster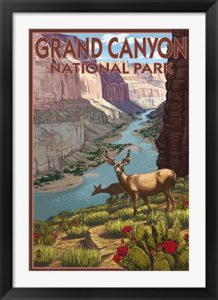 President Theodore Roosevelt said it best: "The Grand Canyon fills me with awe. It is beyond comparison—beyond description; absolutely unparalleled throughout the wide world… Let this great wonder of nature remain as it now is. Do nothing to mar its grandeur, sublimity, and loveliness. You cannot improve on it. But what you can do is to keep it for your children, your children's children, and all who come after you, as the one great sight which every American should see." Established in 1919, Arizona's Grand Canyon National Park spans approximately 1,900 square miles.
Grand Teton National Park Poster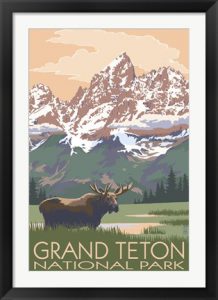 Wyoming's Grand Teton National Park spans roughly 480 square miles. The region boasts bountiful trout fishing, along with the fabulous ski slopes at Jackson Hole. Established in 1929, Grand Teton is conveniently located just ten miles from Yellowstone. Make it a double-header!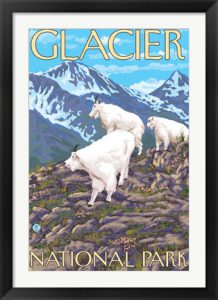 Glacier National Park is located in the state of Montana, running along America's northern border and neighboring Canada's Waterton Lakes National Park. Established in 1910, its highlights include Going-to-the-Sun Mountain, Chief Mountain, and Sinopah Mountain.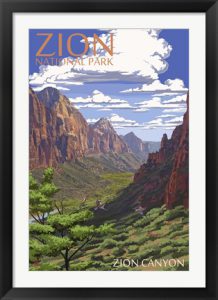 Utah's Zion National Park boasts spectacular vistas of Zion Canyon and diverse ecosystems.  Established in 1919, the park covers slightly under 230 square miles.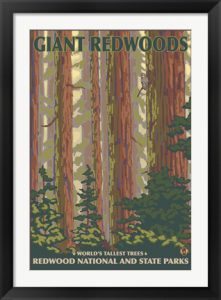 Nearly half of the West Coast's surviving redwood forests are contained in the Redwood National Park and three adjoining California state parks. Redwood is a coastal treasure. Established in 1968, Redwood one of the newest national parks.
Rocky Mountains National Park Poster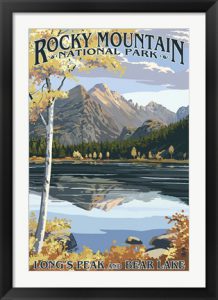 Colorado's Rocky Mountains National Park is located in the Front Range of the Rockies. It offers a convenient location, less than 80 miles from Denver International Airport. Established in 1915, the park covers 265,000 acres.
The US National Park System is a true national treasure. Show your pride and share those golden memories with an awesome poster!