How do you get a great idea to market? A group of thirty rising high school seniors from the Camden Academy Charter High School visited FramedArt.com's headquarters in Monmouth Junction this summer as part of the second annual Think Like an Entrepreneur (TLAE) program at Rowan University's Rohrer College of Business.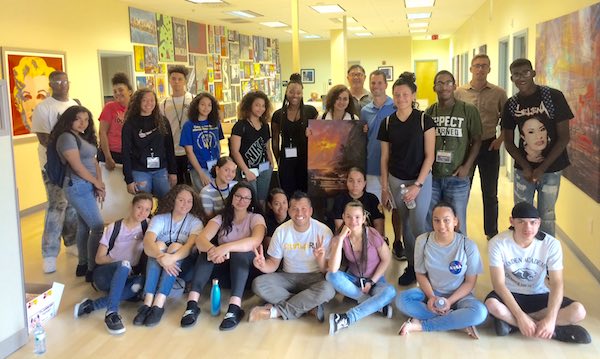 Over the duration of the two-week TLAE course, the students learned the nitty-gritty of new product and service marketing and development, focusing on business models, viability, and financing. The visit to Metaverse (FramedArt.com's parent company) provided the students with a first-hand view of the quickly changing world of e-commerce. The students learned the ins-and-outs of marketing and producing made-to-order customized wall art, from the boardroom through the loading dock from Metaverse CEO Tom Novellino.
"Our hope in visiting Metaverse was not only for our students to meet a business leader, but to see a business environment that evolved from an entrepreneur's vision," said Rohrer College of Business Faculty Lecturer Michael T. Dominik, Ph.D. "Seeing a production environment was impactful for the students in terms of appreciating ideas taken to physical fruition."
The Rowan Center for Innovation and Entrepreneurship's mission is to drive regional economic growth. The TLAE program is designed to fast-track a student's entrance to college after graduation from high school. With both Business and Science curriculums, the Camden Academy is an ideal feeder school. Each student must complete a specific field of study, along with a senior research project to graduate. All students receive three Rowan University credits towards the Entrepreneurship Innovation course.
Joji Thompson, a teacher at the Camden Academy, shared the students' enthusiasm. "The visit reminded me of a Mr. Rogers episode. We saw the complete construction process, start to finish," said Thompson. "The students enjoyed seeing the artwork move through production and gained a new appreciation of the technologies and craftsmanship that go into each finished piece."