Tamara de Lempicka (1898-1980) was a leading artist of the Art Deco period. She was born in Warsaw, Poland and studied at Académie de la Grande Chaumière, as well as Académie Ranson in Paris, France. Her work, which was most popular prior to the end of World War II, melds cubist and neoclassical styles. She spent much of her life in the United States and passed away in Mexico, at the age of 81.
Tamara was best known for her portraits and nudes. As legend has it, she created her first portrait, a pastel drawing of her younger sister, at the age of ten. Jack Nicholson, Barbara Streisand, and Madonna are known to be collectors of her work.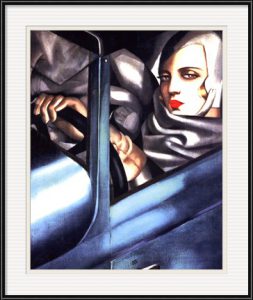 De Lempicka's Autoportrait
Autoportrait is the most instantly recognizable oil painting in Tamara's portfolio. Self-portrait, Tamara in a Green Bugatti was painted in 1929. She revisited her self-portrait twice, producing Autoportrait II and III, between the years of 1974 and 1979.  Artistic liberty was taken; all Bugatti 43s of that period were right-hand-drive, rather than left.
De Lempicka's Jeune Fille Vert
Jeune Fille Vert (Portrait of a Young Girl in a Green Dress) is a stunning piece, infused with Art Deco style and sensibility. Our heroine's wide white brimmed hat and elegant gloves deliver high contrast against her iridescent form-fitting green dress, as she pulls the brim of her hat down to shield her eyes from the bright glare of the sun.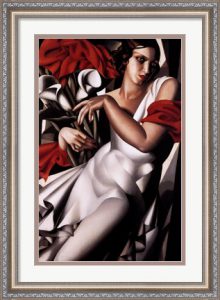 De Lempicka's Portrait of Ira
Portrait of Ira (1930) is a striking portrait of Tamara's friend Ira Perrot, clutching a bouquet of Calla Lillies, with a red cape flowing behind her. Ira's fingernail polish and lipstick echo the deep red hue of the cape
The FramedArt.com collection includes over a dozen pieces. Come spend some time with our Tamara de Lempicka artwork collection and try out our custom framing configurator, which lets you match each piece specifically for your decor.