With well over five thousand pieces of dog artwork in our collection, man's best friend has inspired one of the largest collections here at FramedArt.com. While you might think that the enormous selection would make finding the perfect dog art a daunting task. we've organized our collection of canine art into sections not just based on breed, but by the artist, as well. The following visual list of dog-loving artists makes it easy to browse the galleries by the artist's name and style.
We Love Custom Framed Dog Art!
The sheer size of our canine collection inspired us to carve the list of pup-tastic artists into a handful of easily digestible chunks. We'll kick things off with ten of our favorites, with complementary frames and mats.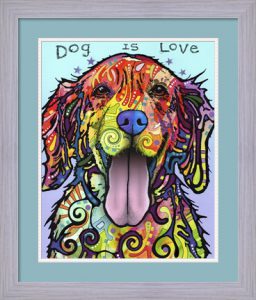 Brooklyn born and raised, Dean Russo attended both the prestigious School of Visual Arts and Pratt Institute. His instantly-identifiable bright neon-colored dog portraits have taken the canine artwork world by storm. While Dean's perhaps best known for his expressive Pit Bulls, his extensive catalog of work immortalizes a vast array of breeds.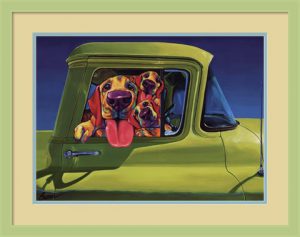 Happy hounds and pensive pups about in Ron Burns' canine artwork, from the happy pack of pooches in I Wanna Go! (shown above) to the floppy-eared Annie, these fabulous four-legged fiends want nothing more than to get in your face and share the love.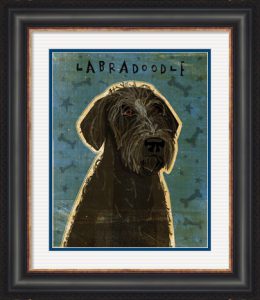 With a bold graphic approach, subtle textures, and whimsical background patterns, John W. Golden's collection of portraits delivers a direct connection to the doggie soul. Whether Chihuahua, Welsh Corgi, Pug, Black Labradoodle (shown above) or Border Collie, it's those expressive eyes that hook you in a glance.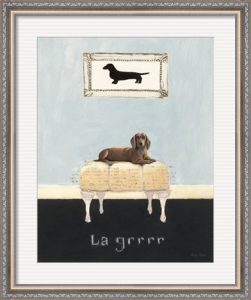 Emily Adams likes to perch her pooches on comfy chairs and name her works with whimsical French titles, from La Woof (Scottish Terrier), to La Grrr (Dachshund). Each of Emily's canine renderings delivers an airy feel and will look great paired or tripled up in a hallway or bath.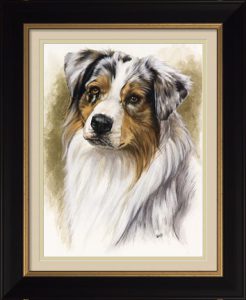 Subtle tones and extreme detail are hallmarks of Barbara Keith's pooch portraits. These are hero shots, to be sure, from the handsome Australian Shepherd through the extravagant Afghan Hound, Barbara's illustration work is near photographic, with magic light and expertly rendered hues.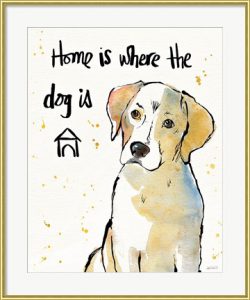 Pittsburgh-based Anne Tavoletti attended the Fashion Institute of Technology in New York City, where she likely encountered an endless array of dogs prowling the sidewalks of Manhattan. Anne's heartwarming Strike a Paws series pays homage to the German Shepherd, Beagle, and Labrador Retriever, among other breeds. "Happiness starts with a wet nose and ends with a tail."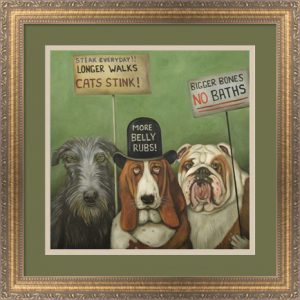 When it comes to whimsical dog art, Leah Saulnier blazes a unique and happy trail, rendered in an expressive style that might remind you of popular artists including Salvador Dali and Cassius Marcellus Coolidge. The terrific trio in Dogs On Strike (show above) make their case with soulful eyes and simple messages that every hound can agree with.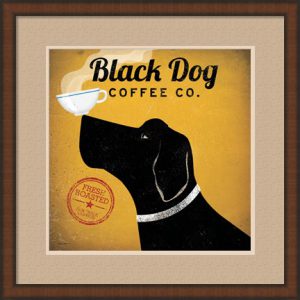 Ryan Fowler has a neck for turning each dog breed into a brand, with an extensive catalog or work, including Boston Terrier Brewing Company, Doodle Winery, Yellow Dog Ski Company, and Black Dog Coffee Company (shown above).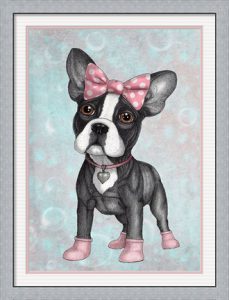 "Who is this Barruf?" we asked, after first discovering the artist's remarkable set of dog-tastic renderings in our archive. Upon digging deeper, we discovered that Barruf (a.k.a. Cédric Duarri D'Haene) hails from the magical city of Barcelona. Bulldogs are a favorite subject for Barruf, with a cadre of fabulous Frenchies taking center stage.