Elephants are the most magnificent mammals to walk the face of the earth. They've inspired artists with their sheer majesty for generation after generation, from prehistoric times through the present. Our expanding collection of Elephant pictures contains a wide variety of pieces, with an extensive range of styles. The smallest artwork measures less than 12 x 12 inches and the most massive are as enormous as their subjects.
Popular Framed Elephant Pictures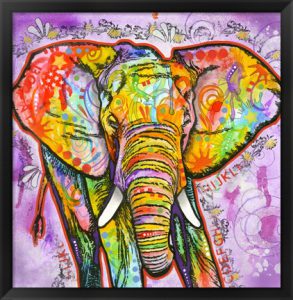 While our collection is light on cave paintings, you will find many of the selections rendered in the latest trend-setting styles. The first pair of our favorite large elephant pictures packs quite a punch.  We'll start with the wonderfully colorful pop art Elephant by Dean Russo. At a maximum size of 47 x 48 inches, it's as big and bold as can be. John Banovich's remarkable Power of One photograph (shown below), weighs in at 48 x 40 inches.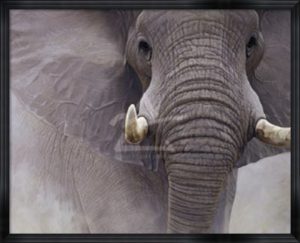 ArtPopTart's Elephant is a multi-textural collage with unique depth and dynamic impact. Lauren Hoffman's (a.k.a. ArtPopTart) innovative approach combines found imagery with painterly technique. Cultural icons and wildlife are among her favorite topics.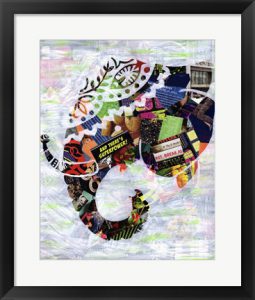 Elephant Yoga, Namaste Pose by Veruca Salt is ideal for entryways, as well as other places in your home where people come and go. It's offered in multiple sizes from 19 x 19 inches up to 38 x 38 inches.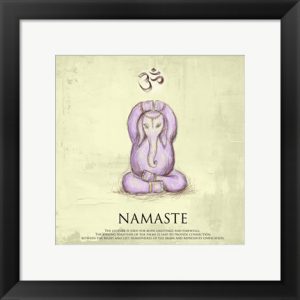 Framed Elephant Artwork for Kids
FramedArt.com has over one hundred and fifty pieces of framed elephant artwork for children. These fun pieces are perfect for display in the children's bedrooms and bathrooms. In Jay Fleck's whimsical Waterslide, for instance, a group of fun-loving penguins turns a friendly elephant into a waterslide. It's a playful piece of water-focused Elephant artwork.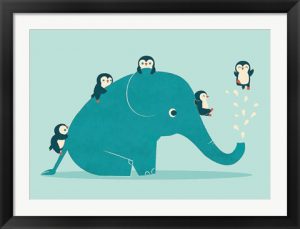 If you're looking for more elephant bath art, you'll want to check out Nancy Lee's Elephant in Bathtub. It's bold and bubbly! Nancy's art is notable for its bright colors and expressive eyes. This scrub-a-dub-dub pachyderm's sure to bring plenty of smiles.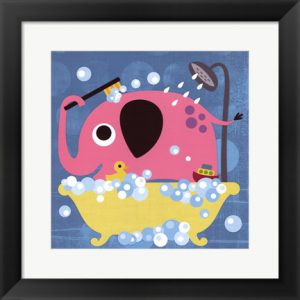 Take a stroll through our collection of elephant artwork today! Don't forget the peanuts!