With a well-chosen set of framed racing prints on your walls, you don't have to "go fast or go home." You can have it both ways! The FramedArt.com collection features a fabulous selection of racing artwork, across genres. Rest assured, motivation needn't be motorized. Prefer the sound of thundering hooves or the whir of chains and sprockets to the rumble of race-tuned engines,? FramedArt.com has it covered!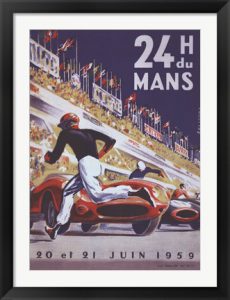 Our motor racing print collection is the premium fill for the discerning gear head's man cave. It includes a wide range of styles and motorsport eras. We're particularly fond of the retro prints. Case-in-point: Jesse Alexander's black and white photographs capture the raw speed of mid-century Grand Prix racing in classic lithographic prints. A trio of colorful retro Grand Prix posters by George Ham from the same era provides vibrant contrast. Vintage auto art is always in demand. An original lithographic print of Michel Beligond's 24 H du Mans sold for 1,750 pounds at a Christie's auction in 2014. That's quite the pretty penny! Thankfully, you can order a beautiful reproduction from FramedArt.com at a mere sliver of the price.
Bicycling racing is not for the faint of heart. It takes endless determination and superior conditioning to land in the winner's circle. Our Vintage Cycling Poster collection pays homage to the strong and fit, with countless retro advertisements. There's a superb set of black and white photographs, as well. Sprucing up the bedroom, den, or garage? You're sure to find a bevy of beauty bicycle artwork to bring inspiration and whimsy.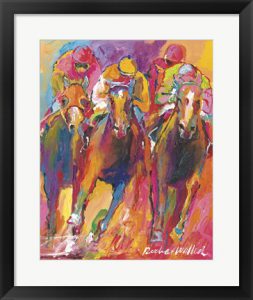 There are over 100 prints in the FramedArt.com Horse Racing artwork collection. Classic impressionist equine works include Henri de Toulouse-Lautrec's At the Racecourse (1899) and Edgar Degas' Gentlemen Race Before the Departure (1862).  Prefer something a bit more modern? Richard Wallich is a prolific contemporary American impressionist known for his use of vibrant colors, not surprisingly, horse racing artwork is among Wallich's best. He freezes his subjects in a beautifully blurry moment in time. Most of his pieces are available in multiple sizes to fit the broadest range of spaces. Last but not least, Sea Biscuit is immortalized in two lithographic prints by Paul Whitney Hunter.
Carefully chosen artwork can turn a mundane space into something truly special. With a camera or a brushstroke, photographers and artists capture the essence of speed in the wink of an eye. If you're redecorating, there's no faster way to bring on the cool. Browse our galleries today to bring zip to your walls with just a few clicks!