Framed wall art has been an interior design staple for decades. It's easy to see why these pieces never go out of style. Each print can be customized in dozens of ways, including selecting the right print, choosing the proper frame color, shape, design, as well as picking out the piece's finish. Finding just the right art for your home can be difficult, however. Your space should feel personal and comfortable — hunting down the art that perfectly matches your vibe is almost impossible. Luckily, with the My Framed Photos service, getting a custom piece for your home is easier than ever before.
What is My Framed Photos?
My Framed Photos is the one-stop-shop for all framed wall art. This new service lets you design your next piece completely from scratch. Start by uploading the image you'd like to display in your home. Next, you can choose the size, resolution, as well as finish of the printed image. Finally, you select the right mat and frame for your image.
Once your wall art is designed, we'll ship it right to you! The online design tools make getting personal home art a breeze (you can read through the entire process here). Gone are the days of waiting in long lines at print shops or framing services. 
Personalized Home Decor
The custom art from My Framed Photos is great for incorporating around your home. Our wide range of design options makes it easy to create a piece that will complement your space's current style — or provide inspiration for a makeover! By using a personal photo, you can take sentimental images, like baby, wedding, vacation, or anniversary pictures, and turn them into living room wall art to feature in your space. These pictures will add a touch of family and comfort to your home, making your room even more inviting. 
Creating your own art or photography piece that highlights the style of your home or office is also a great idea. You no longer have to spend hours wandering around a gallery or scrolling the endless pages of a print website. Instead, upload your own beautiful nature or urban landscape shot onto the site, format it, and have it sent right to your space. Decorating with your own photography adds even more depth as well as meaning to your design. And makes it possible to go out and take the exact image you've been dreaming of hanging in your space. For an office, consider hanging team photos or the art or photography of your coworkers to add a sentiment as well as style to the room.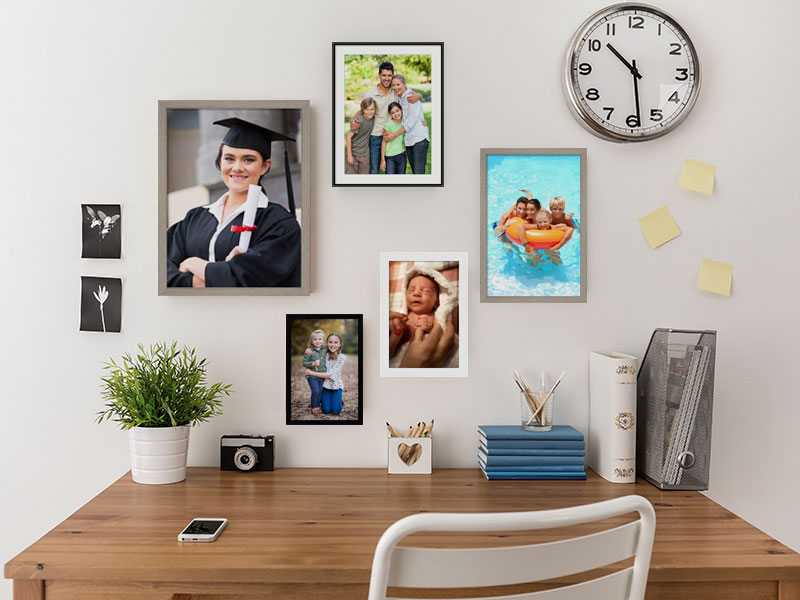 Great Custom Gifts
What present would you rather receive — something generic, or something personal and sincere? We like the sound of the latter, too. Customized art pieces are a good gift for any birthday, anniversary, or holiday. A framed copy of a sentimental image can be hung in any home and is sure to be a gift the recipient will appreciate for years.
Consider gifting a baby picture print for that next birthday milestone, or a gorgeous printed wedding photo as your favorite couple's Christmas gift. By using our design tools, you can mount that heartfelt image with the ideal frame and finish to complement their home. We promise that your gift will quickly become the recipient's favorite piece of home decor.
To get started designing your own framed wall art, head over to FramedArt's webpage. This page walks you through every step of the process, ensuring you get a high-quality and long-lasting art piece. We guarantee your satisfaction, and can't wait to see what exciting custom pieces you create!