Defined as a strong desire to travel and explore the world, wanderlust is a sensation that is more than just a passing curiosity. But rather, it's more like a motivating force that drives and inspires one to seek adventure and discover new places. It comes from the German words wandern ('to hike') and lust ('desire'). And literally means the love of hiking. But generally describes an intense feeling or inner longing to journey to places unknown and new.
The feeling of wanderlust has perhaps never been so commonly felt as it is in today's world. While travel bans have been enforced and staying at home as well as practicing social distancing has become the norm. Luckily, however, it's still possible to keep your dreams of travel and adventure alive with inspiring framed art that captures the spirit of wanderlust! Read on to explore some creative and unique ways to express wanderlust through art in your home or space.
Culture and Exotic Places
Fill your home with reminders of the faraway places you have been to or would like to see. Framed art with cultural themes like the Southwest prints by Marty LeMessurier will add warmth to any living room! Do your travel dreams bring to mind images of exotic locales? Decorate your home with prints that depict the excitement and color of life in India with Indian-themed wall art. Maybe you find inspiration in the serene wonder of Japan?  If so. hang beautiful prints of traditional Japanese art to invite this graceful culture into your home!
Travel Posters
The feeling of wanderlust is not new. People throughout time have experienced this inner drive as well as the yearning to explore. Additionally, people want to experience new sights and places around the world. In the early part of the 20th century, the world was fascinated with the idea of traveling to foreign lands.
The travel industry responded to this with large print advertising designed to awaken the travel bug in everyone! Travel posters became wildly popular. Exciting tourist destinations sought the attention and intrigue of potential visitors. Vintage travel posters have since become highly collectible. And you can revive the spirit of travel in your home by displaying travel posters on your wall. In a study or home office, why not add a few of these inspiring and fun reminders of travel? Relive the thrill of seeing historical landmarks and visiting new and novel destinations for the first time.
Modes of Transportation
Sometimes the sound of a passing train or the sight of a plane soaring overhead might excite your desire to take off on an adventure of your own. Pay homage to your favorite mode of transportation. Whether it be by flight with aerial views, photographs of airplanes, or other framed air transportation art. You can try train with prints that show major railroads and train stations. Or if you enjoy embarking solo on the sea, hang framed boat photography to remind yourself of the ocean voyages which await you. Let your imagination be your guide and discover artwork that can transport you away. 
Map Your Journeys
Plan your next trip by hanging maps of places you want to travel to or maybe places that you've already been to. There are many types of maps you can choose to frame for your walls. Such as illustrated maps like the elegant Atlas Nationale Illustre series by artist Victor Levasseur, framed regional maps to highlight a special region of interest, or even complex and interesting city maps.
If you enjoy finding your way around new places, hang prints of street maps on your walls. The angular lines and simple colors of these prints complement a clean and modern decor. You might even take a peek back in time and hang a framed old world map like this Vintage Map by GraphINC. If you can't decide where you want to go next, select a large framed world map as a central piece in your living room or bedroom and enjoy plotting a trip around the globe!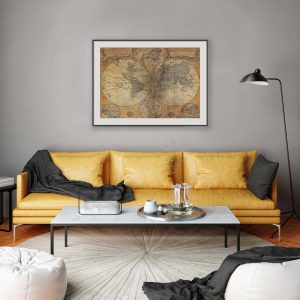 Wanderlust in Word Art
"The journey of a thousand miles begins with one step." — Lao Tzu
Perhaps one of the most basic ways to convey the spirit of wanderlust is through words. And to sum up your feelings of wanderlust, you may want to keep it simple with framed art that features some of the most inspiring quotes about travel, adventure, and the yearning to wander. These prints by Emily Navas are not only lively but proclaim the spirit of the wanderer with such simple thoughts like "Never Stop Exploring" and "Wanderlust Awaits".
At Framedart.com, there are thousands of ways to express the yearnings of your soul. Whether you choose to glorify it with images of foreign places or pay tribute to it with a cultural theme. Or even if you simply want to sum it up with words like with the stirring quote by Lao Tzu above. With framed art, you can celebrate your wanderlust because life is filled with opportunities for discovery and it's important to remember that "Not all who wander are lost".