We're really into celebrating birthdays around here… because we all need more to celebrate, right? This week, it's Georgia O'Keeffe! Georgia O'Keeffe created one of the most beautiful and vibrant bodies of floral artwork we have. In her honor, we want to dedicate this blog post to Georgia O'Keeffe paintings, and the perfect flower pairings for them! The best way to round out the look and feel of a room is to grow a real, living organism that matches your framed wall art! Get excited. We're excited.
Georgia O'Keeffe's Black and Purple Petunia
The black and purple Petunia by Georgia O'Keeffe embodies the bold floral style we love from the artist. Though O'Keeffe is famous for her sensuous flowers, this one really makes us feel something. The Petunia is dark, mysterious, and comes at us with a gravity we rarely see, or even think about, with flowers. For something so dark and depthy, we have the perfect pairing.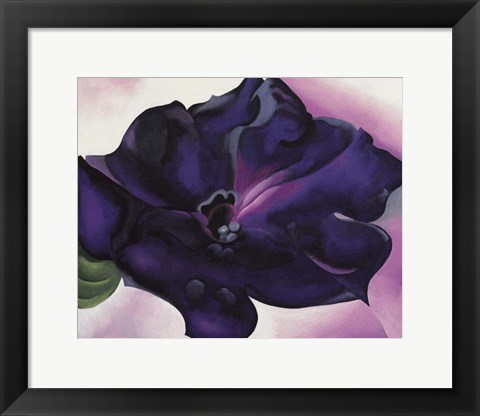 To contrast the dark and round look of this petunia, consider a vase of purple larkspur flowers! The larkspur grows in a cylindrical column, and is commonly pink and purple in color. These wildflowers look beautiful dried in a vase as well, and can provide a pop of color on your coffee table for weeks! We think Georgia O'Keeffe herself would approve of this moody, wild pairing!
Feeling Blues with Morning Glories
When we say we're feeling the blues, we don't mean sadness. We mean we're really getting deep into the serene, calm blues of Georgia O'Keefe's Morning Glories. This piece is truly a picture of tranquility. There's something about the exact shade of blue she employs in this painting that really calms the soul. The rounded, yet geometric pattern of the flower also enhances this mood as well. The Blue Morning Glories come highly recommended for a bedroom, especially a guest room, near you. And yes, we have the perfect flower for that bedside table. Spoiler alert: it's not a morning glory!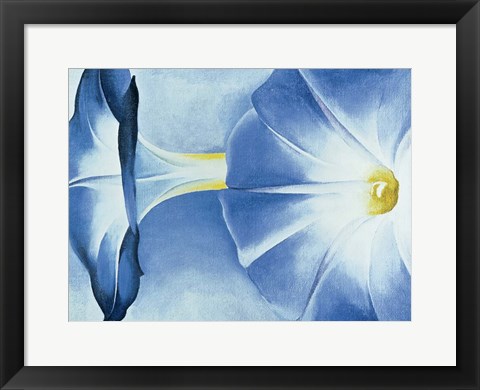 Instead, we recommend a vase of beautiful, sorrowful, bluebelles. The bluebelle flower sometimes takes a more purplish hue, but it's the shape and mood we really want to capture. To complement the Morning Glory, the Bluebelle's curved stem and curly ends are beautifully dainty. The small, petite flowers also juxtapose the largeness of the morning glory perfect. We love a good vase of bluebelles, to really get you in a content mood! Not many people are welcoming guests at the moment, but you and your family deserve some beauty in your bedrooms, too!
Georgia O'Keefe's Fiery Poppy
For a change of pace, we present Georgia O'Keefe's explosive red, orange and yellow Poppy. This painting is full of emotion! The bold reds of the Poppy jump right out of the frame, making it a perfect conversation piece for your living or dining room. The dark center of the Poppy painting is another classic Georgia O'Keeffe motif. She shows us that although flowers are gorgeous in their natural beauty, they are more than just delicate petals. They emerge from a deep, dark center.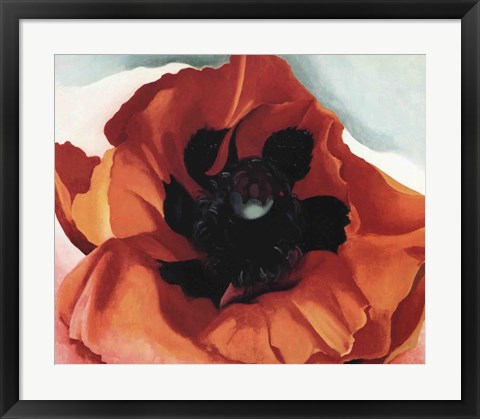 Our pairing for the Poppy isn't what you would expect. We're not going to go with the wild and warm colors this painting projects. Instead, we want to contrast the painting with something softer and lighter. We recommend a vase of white roses to accompany your wild Poppy in the room. Roses, as you probably know, are romantic and complex. We love the contrast of the white against the deep red of the Poppy. But we also love the depth of both look and scent that roses provide. The environment created by Georgia O'Keefe's Poppy painting, along with a vase or two of white roses, is almost irresistible!
Georgia O'Keeffe gave the world a gift through her beautiful, emotional floral paintings. Give yourself a gift by placing one on your wall. Browse all of Georgia O'Keeffe's works in the gallery, and choose the perfect painting for your wall! We all need something to celebrate right now.