Self-expression may be pretty popular right now, but it's far from a new idea. In fact, the "Express Yourself" movement, among artists at least, started early on in the 20th century, if not before. The artists of the Expressionist era were all about feeling your feelings, even the uncomfortable ones. Expressionist art isn't afraid to distort reality or use a ton of paint for the sake of emotion.
If we're being totally fair, you can find emotionally expressive art in every single artistic era (after all, it's what artists do best!) But the official expressionists were a special group. We'll highlight a few in this post.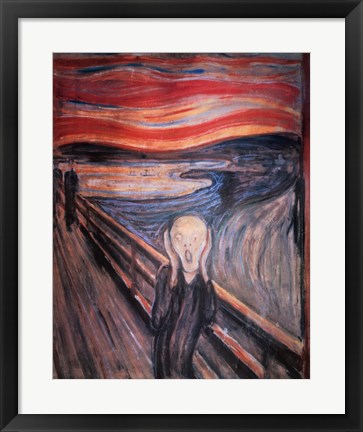 Expressionist Art by Edvard Munch
Edvard Munch is a big name in the expressionist art world, and this blog highlights him on a regular basis. His most famous painting is the one pictured above, appropriately titled Scream. This painting inspired many other artists to bend the rules of realism to evoke emotion. It also inspired a teen horror tetrology, but we won't get into that.
Though Scream definitely serves as the "face" of Edvard Munch's art, he has another popular painting that depicts a similar setting. Four Girls on a Bridge may not be quite as upsetting and horror-inspiring as Munch's other bridge depiction, but we can still feel the emotion. We're also getting the impression that Edvard spent a lot of time on bridges.
Edvard Munch created multiple works of art depicting mental anguish. Perhaps this is an unfortunate act to be famous for, but at was one way he worked through a childhood ridden by tragedy. His mother died of tuberculosis, and he was raised by a father who suffered from mental illness. For these reasons, Munch stands, unwittingly, as an early advocate for art therapy.
Even if you're not an artist, art therapy can be helpful both in the doing, and in the viewing. Take a minute to soak in the emotion of Munch's Four Girls on a Bridge, shown below.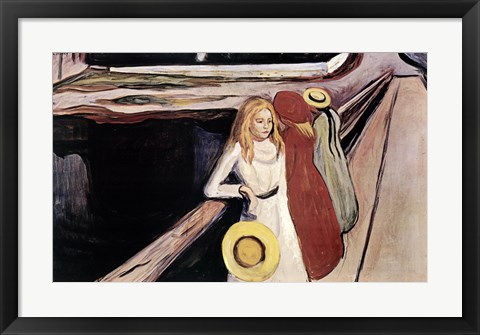 All the Feels with Wassily Kandinsky
Wassily Kandinsky stands as another favorite on the blog. If this guy's art doesn't make you feel something, can you even feel? Kandinsky, born in Russia, studied law and economics as well as art. We're not sure if that played a part in him becoming a pioneer of abstract art, but his experience certainly informed is emotional paintings. Either way, we're sure Kandinsky was a genius–historians say that art school came easy to Kandinsky, and he was an art theorist as well as a proper artist.
Kandinsky once said that "music is the ultimate teacher," (wait, was he a musician, too?!) and he allowed music, religion, and literature flow through his mind, and out of his brush. He actually wrote a book, (and a writer?!), Concerning the Spiritual in Art, where he talked about the artist as a prophet. He drew on Biblical narratives and Russian folktales to depict dynamic representations of death and rebirth. The man clearly had a lot going on in his brain. This seems like a theme throughout Expressionist Art in general.
One of our favorite Kandinsky prints is Gelb, Rot, Blau, a work that emerged in 1925. If you look hard enough, this painting has all the feels.
More Expressionist Art We Love
Can't get enough of expressionist art? We can't either. From Pablo Picasso to Franz Marc, expressionism lifts us up and allows us to dig deep into our emotional psyche. Amedeo Modigliani also painted dynamic, expressive portraits. And we'd be remiss to leave Egon Schiele out of the mix. Browse this mini gallery of expressionist art, and feel free to show your feelings. We won't judge.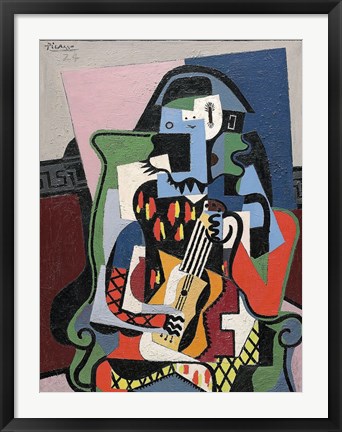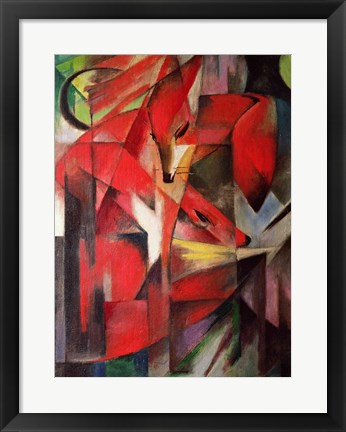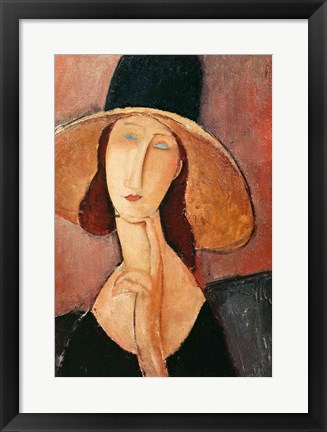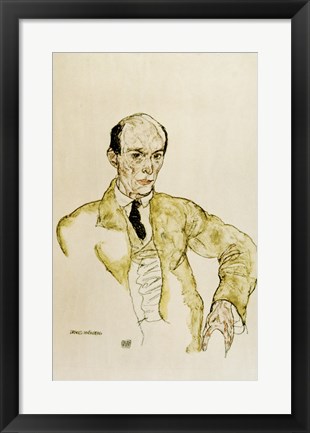 If you're still not satisfied, grab a box of Kleenex and head on over to our full gallery of expressionist art. We know you'll find the perfect piece for your home!