Nothing beats the feeling of soaking in a tub of warm water after a long day of work. Even better, a bathroom with beautiful wall décor instantly lifts your mood. Just as you spend time finding the right décor for your living room walls, you should do so for your bathroom walls as well. There are several bathroom wall art styles in the market to suit every taste and preference.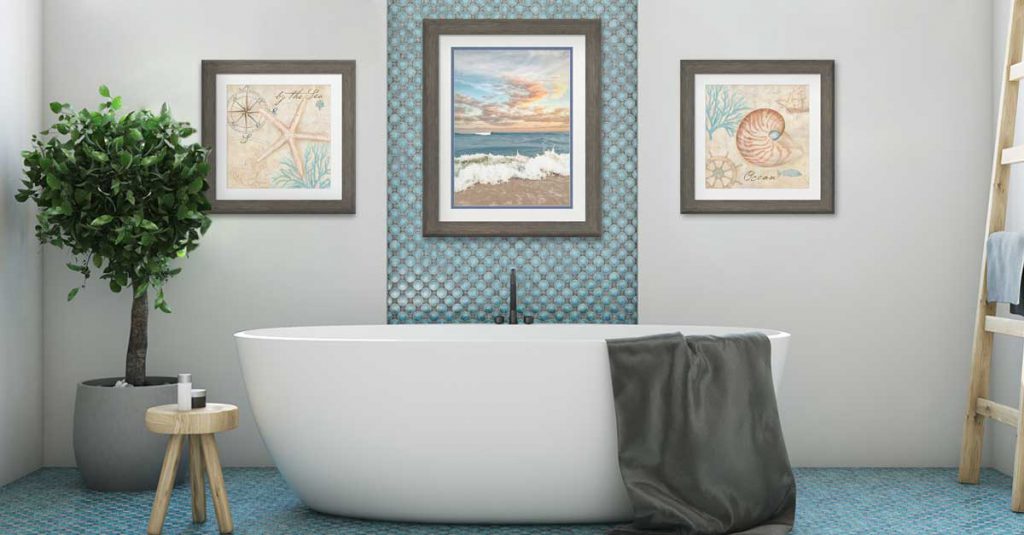 Bathroom Wall Art Styles
Your bathroom wall is a blank canvas that gives you a chance to show your artistic side. It allows you to add a personal touch to your bathroom. The kind of art you choose will depend on your taste and also on the art categories available. Here is some style inspiration for your bathroom walls.
Word Art bathroom room wall hanging
You can add some character to your bathroom wall by adding some word art wall hanging. Wooden frame bathroom wall signs are an excellent example. The signs could be funny bathroom quotes as well as rules such as the Lavender Bathroom Rules wall art hanging.
Drawings
One way to enhance the appearance of your bathroom is by putting up some drawings on the walls. The drawings you put depend on your taste. For instance, if you fancy beach bathroom art, then the Coastal Breeze Sketches are for you. You can choose any size of drawing you want, so long as it fits your bathroom wall.
Vintage wall posters
What better way to add some classical vibes to your bathroom than to use vintage wall posters? French bathroom designs are incomplete without some vintage décor on them. If you have one (a French bathroom), consider getting the Fleurs and Parfum III poster to add some flair to your bathroom.
Pop Art bathroom wall hangings
A modern bathroom design will also look great with pop art wall hangings as they add a contemporary ambiance to your bathroom. They look stunning and don't overshadow other décor pieces in your bathroom.
Regardless of whether you are a minimalist or outlandish, your bathroom walls don't have to stay naked. That said, there are also some practical bathroom design tips that you can follow to help design your bathroom like a pro.
Tips to Help You Design Your Bathroom like An Expert
Designing your bathroom isn't rocket science. It is easy, provided you have an idea of how you want your bathroom to look like. The aim is to add some glamour as well as personality to your washroom. You also need to know how to position your wall art for a flawless display.
Here are some valuable tips to guide you.
Work with a theme.
A theme will guide you on what colors to paint your walls, what kind of décor to buy, as well as where exactly to place them. A theme is like your Wayfinder. You will have a vision of how your bathroom will look like and work towards realizing it.
Lighting
Lighting is essential, especially for small bathrooms. If you have a small bathroom, you can visually enhance this space and make it appear larger. Besides, good lighting makes your wall art pop. If you have a narrow washroom, you can make one wall brighter using wall lights to give an illusion of a bigger space.
Go easy on the colors.
Simplicity goes a long way. Too many colors, wall arts, as well as a busy wallpaper may make your bathroom look congested and small. Two or three colors are enough for your bathroom. You can use one color for the walls and two for accessories and décor. However, for the décor, you can choose any color you want, provided it's compatible with your wall colors.
If you want to upgrade your bathroom from boring to elegant, buy beautiful bathroom wall art styles from Framedart.