Japandi Art has taken the world by storm….a quiet, serene, simplistic storm, that is. It is a loving combination of the simplistic yet rustic design from Scandinavia with the calming, minimalistic artistry from Japan. The fusion of these two styles, from opposite ends of the globe, combine offering clean lines, a natural color palette, as well as a soothing contemporary feel. Understanding the elements of the Japandi style makes it easier to incorporate into your home or office without effort.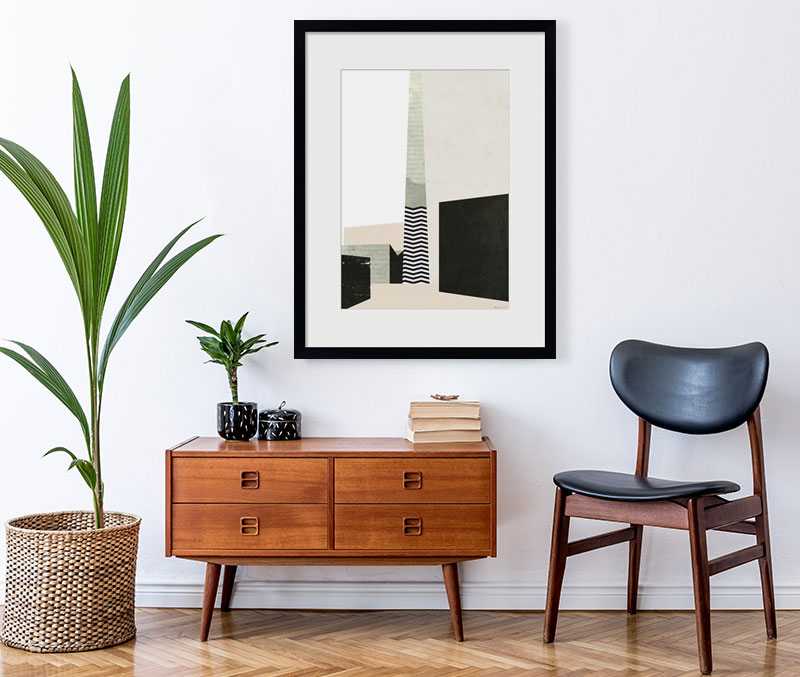 The Elements of Japandi
Neutral Colors
When you think Japandi, think of neutral tones that soothe the spirit and create order. You will find calming, natural colors in Japandi art prints. River Stones II by Moira Hershey fits neatly into the Japandi style, with neutral colors, natural elements, as well as simplistic design. 
Elements of Nature
Florals are often subjects of the Japandi style. For example, Modern Peonies II focuses on the natural coloring of pastel peonies set to a neutral background.  Just looking at this print, you feel relaxed and as one with nature. 
Animals and birds are also found in Japandi art. They continue to have minimalist lines as well as neutral colors to keep the piece serenity-evoking. One example might be Japanese Waxwing on Maple by Ohara Koson.  This print is a perfect focal point without distracting from other items.  
Graphic Abstracts
Sometimes less is more, as in the Japandi prints that are contemporary and abstract in design. Japandi prints are concise and yet freeing, such as Mod Rainbow Collage I and II by Emma Caroline. As with many art prints in the Japandi style, these are simple, with natural tones as well as concise shapes.

Uncluttered and Clean
Keeping design minimal and uncluttered is the basis of the Japandi style. Art prints can be thought-provoking or can simply bring a smile to your face. One of our favorites is Stairway to Heaven by Pechane. We love the monochromatic coloring and simple subject that also gives you pause and inspires you to consider its meaning. 
Monochromatic
Many Japandi pieces are black and white. With Scandinavians surviving long winters, white is a perfect color to brighten their homes. What better contrast than black! Combine with a Japanese subject, and you understand why the two cultures can unite to make such beautiful art. Consider Happiness in Japan by Elizabeth Tyndall. This simple print reminds us that happiness is not limited by language or homeland.
How to Incorporate Japandi Style Into Your Space
If you are intrigued or impressed with the Japandi style and want to add this calming, beautiful design to your home or office, it is not difficult to do. In fact, you don't have to revamp your entire space at once to get the effect that you want.
Start Small
Start with some wall art. Japandi style looks best against a neutral wall. You can hang a piece in any room of your home, or in every room.  Japandi art works well in the bedroom where you desire tranquility. The office or den is the perfect place to hang a Japandi print since it brings a sense of calm and order to the space. Or how about the foyer? Your guests will immediately connect with the print and the soothing vibe it gives.  
Mix it Up
You can combine Japandi art with nearly every decorating style imaginable. Its neutral colors, simple style, as well as clean lines blend well with rustic, contemporary, and traditional styles. Its understated message does not compete with other art or furnishings, making it perfect as a decorating refresher. 
We have all the Japandi prints you are looking for, in the sizes you need. Check out our large selection or if you still have questions about any of our framed art, contact us today!