Summer is drawing to a close and Autumn is nearly underway. This means that it is time for pumpkin spice lattes and oversized sweaters… and even more importantly, it is time to start thinking about how to celebrate Hispanic heritage month! September 15 – October 15 is a special time set aside to remember everything that Hispanic culture and history have given us. If you are wondering where to start, our framed art collection has your back. You can spruce up your decor for Fall and give your Hispanic heritage a well-deserved place in your home at the same time. Celebrate Hispanic heritage month by showcasing some of the greatest Hispanic artists of all time!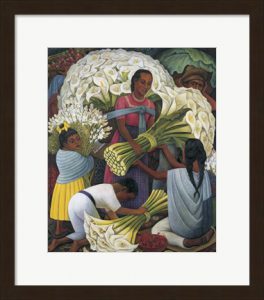 6 Artists That Will Inspire You During This Year's Hispanic Heritage Month
Diego Rivera
Diego Rivera is one of the greatest Mexican painters of the twentieth century. His detailed and emotional murals often represent the human experience. One of his most well-known (and most beautiful) paintings is El Vendedor de Alcatraces. This work of art would make a stunning addition to any home.
Pablo Picasso
This is a name you most likely recognize, and with good reason! A native of Spain, Picasso was an extremely influential artist, and his art continues to influence painters today. Picasso's artistic abilities were many, including painting, sculpting, designing, and doing ceramics! One simple yet meaningful piece of art is Picasso's Dove of Peace. This is a beautiful piece for your child's room. This can give them the opportunity to learn about Hispanic culture and remember that, as Picasso himself said, "Everything you can imagine is real."
Frida Kahlo
No list of Hispanic artists is complete without the acclaimed Frida Kahlo. Frida pursued art due to the encouragement of none other than Diego Rivera. This was after an intense accident that changed the course of her life. Her life story shows that, through bravery and determination, beautiful things can come out of bad circumstances. Two Fridas is a double self-portrait and one of Frida's most delightful paintings. This is a meaningful and beautiful painting with which to celebrate Hispanic art.
Juan Gris
Juan Gris is another artist you do not want to miss during Hispanic heritage month. Bold, colorful, and a bit avant-garde, his paintings certainly make a statement. In fact, Gris even made a portrait of his friend Picasso! Another artistic masterpiece of Gris's is his 1916 work simply entitled Violin. This is a wonderful work display in the home if you or your family members are music lovers! 
Salvador Dali
You might know the name Salvador Dali because of his incredible mustache or his melting clock art. However, his paintings also deserve attention and applause, especially during a celebration of Hispanic art and artists! Dali is a wonderful example of ambition and imagination. He was a part of the Surrealist category, but he was not afraid to pursue his own unique style even further. One of his adventurous paintings, Impressions of Africa, shows both his misty, dreamlike style and his attention to detail.

Francisco de Goya
Last but not least, Francisco de Goya must take his place in the list of Hispanic artists. Goya is well known for his romantic style as well as his ability to paint portraits. In fact, his skills won him the position of first court painter in Madrid, and he made portraits of the king and queen around the year 1800. One of his soulful portraits is St. Theresa of Avila. This is a lovely piece to hang in your house as a celebration of Hispanic art and a reminder to use your life to bring beauty and good to the world.
Like everything we offer, these beautiful pieces of art can be customized to your liking. We work with you to find the exact shape and size frame you want for your art. To learn more, just visit our website and start browsing!