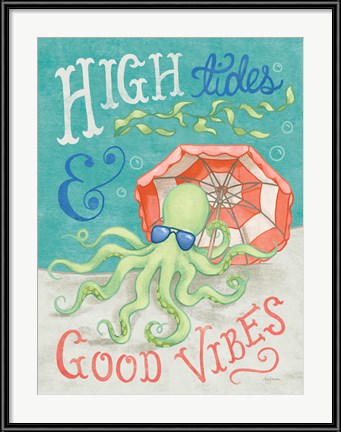 Whether you're decorating the beach bungalow or adding coastal flair to your inland pad, Framed Art has all the artwork you need to set your home apart from the crowd. You can select individual aquatic artworks in an eclectic range of styles or choose a coordinated set, like Mary Urban's Ocean Friends (shown above), which includes five pieces, each highlighting different sea creatures. The set covers all the bases +1, with a seahorse, a sea turtle, a starfish, an octopus, and a whale with a bright yellow rubber duckie. Summer's in full swim and our collection of sea creature artwork is cooler than a box of popsicles!
Let's take a stroll through the galleries and catch up with our favorite critters …
Seahorse Art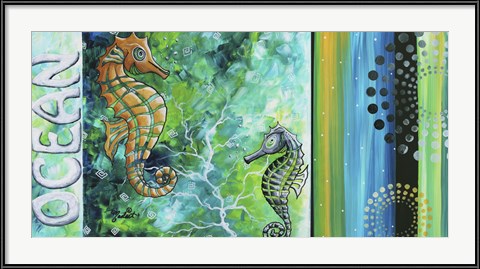 Framed seahorse wall art is quite popular for children's bedrooms and bathrooms. You're bound to see more seahorse tattoos on the beach these days than seahorses in the ocean. While the elusive little critters are tough to spot in the wild, you'll find over 300 pieces of seahorse artwork in our seahorse art collection.
Starfish Art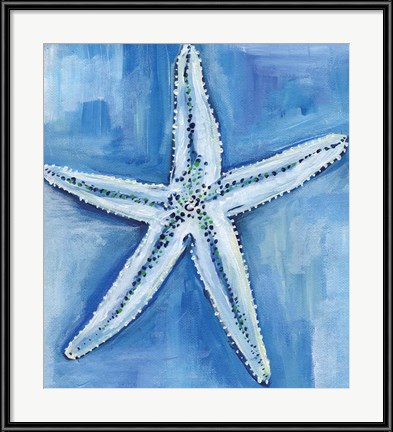 Searching for starfish at low tide is a wonderful way to while away time at the beach. You should never remove these beautiful creatures from the sea, however, as they need water to survive. Drop in and browse our starfish art category, instead! With nearly 700 pieces of starfish artwork, there are no disappointments.
Jellyfish Art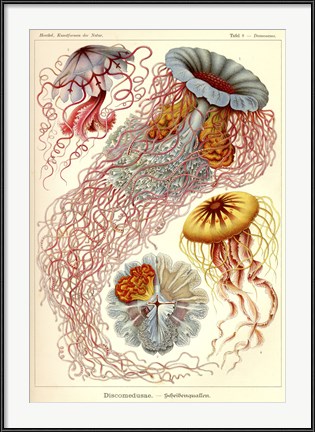 Known for their ghost-like translucent bodies and painful stingers, jellyfish are best admired from afar. While the jellyfish artwork category is one of our smaller aquatic collections, it includes many notable pieces. Deeply saturated colors and intricate detail draw the eye. 
Octopus Art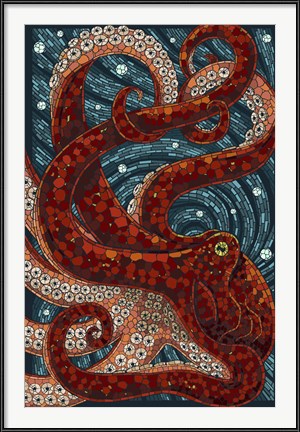 The Octopus is perhaps the ocean's most mysterious and nightmare-inducing creature. Wikipedia explains the difference between the octopus, and its relatives, the squid, and cuttlefish: "Barring a few exceptions, octopuses have eight arms and no tentacles, while squid and cuttlefish have eight arms (or two "legs" and six "arms") and two tentacles." Our Octopus artwork collection contains over 200 pieces, including Octopus Mosaic, by Lantern Press.
The next time you visit the beach, keep an eye out for sea creatures and remember these simple words: Take nothing but pictures, leave nothing but footprints.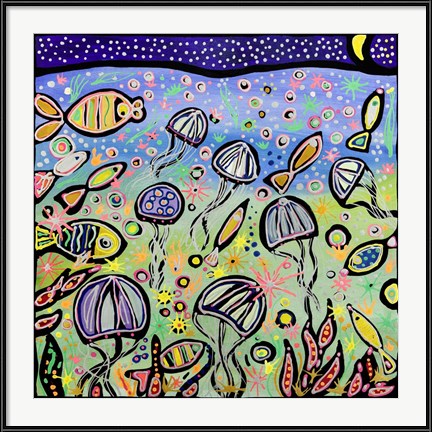 Our heartfelt thanks to NJDEP's Cooperative Coastal Monitoring Program for monitoring our ocean water quality!