Searching for something unique to scare the kiddies? Our Halloween art gallery screeches past anything you'll find at a local store! You'll encounter a jillion Jack 'O Lanterns, a gaggle of Ghosts and Ghouls, a slew of Skeletons and Scarecrows, a whole lot of Witches and even a Werewolf or two in our collection. Bats, Black Cats, Haunted Houses, we have it all in a remarkable array of styles and sizes. These are the new Halloween family heirlooms you've been looking for!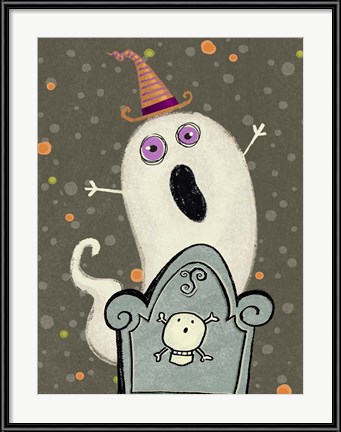 Hottest Halloween Art Trend? Day of the Dead!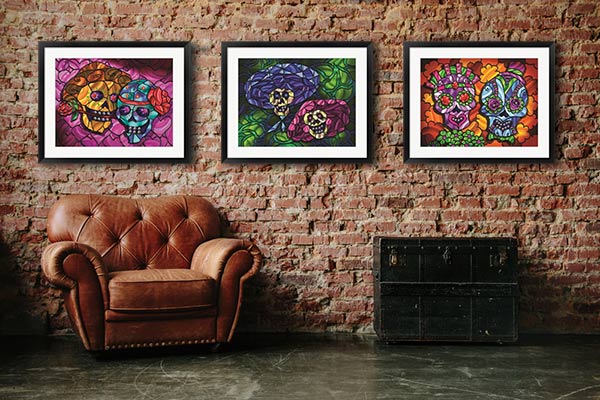 Our expanding Day of the Dead artwork collection features a delightful array of the well-decorated departed. You'll find dozens upon dozens of unique Sugar Skull prints in a slew of sizes, styles, and color combinations.  Jeff Maraska's Day of the Dead print series consists of four pieces rendered with a glowing stained glass technique. It's ideal for transforming a room into a haunted cantina.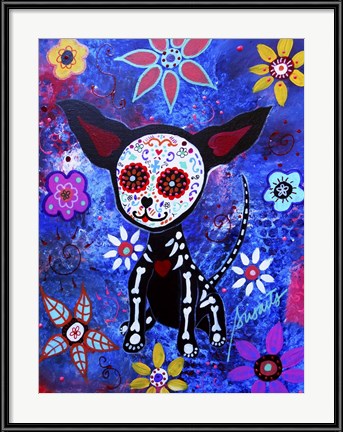 Prisarts adorable Chihuahua Dia De Los Muertos frolics on a deep blue background, dappled with flowers.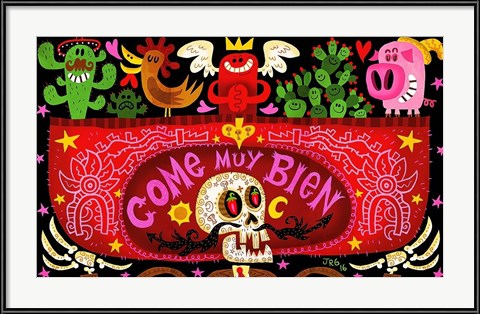 Once you've bought one framed Jorge R. Guiterrez print, you're bound to pick up another. Jorge's artwork is vibrant and fun.
Jack O' Lanterns are a Halloween Art Favorite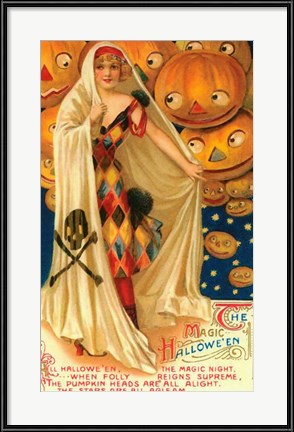 Our Jack O' Lantern art collection has something for everyone, from fun vintage prints like Vintage Apple's Halloween Beauty Pumpkins to the warmth and whimsy of Valarie Wade's Pumpkin Hugs.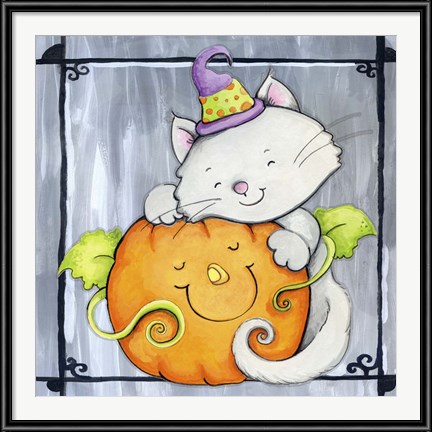 "Hallowe'en, the magic night, when folly reigns supreme, the pumpkin heads are all alights, the stars are all agleam."
Wild and Wonderful Witch Art
There are bad witches, and there are good witches. Needless to say, we prefer the latter. Our collection of whimsical Witch artwork will send shivers to your funnybone.
Moscow-based artists, Olga and Alexey Drozdov's adorable pixie-witch series sparkle with gems sure to bring a smile. Dan Dipaolo's Trixie, Dixie, and Peach might have you thinking … two out of three ain't bad. Or are they?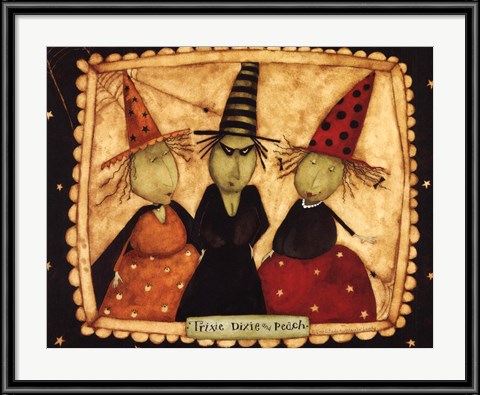 Double, double toil and trouble;

Fire burn and caldron bubble.

Fillet of a fenny snake,

In the caldron boil and bake;

Eye of newt and toe of frog,

Wool of bat and tongue of dog,

Adder's fork and blind-worm's sting,

Lizard's leg and howlet's wing,

For a charm of powerful trouble,

Like a hell-broth boil and bubble.

Double, double toil and trouble;

Fire burn and caldron bubble.

Cool it with a baboon's blood,

Then the charm is firm and good.
Stop in and browse our Halloween galleries today! There are No Tricks, Just Treats!