Billy Jacobs is a prolific contemporary American artist specializing in rural landscapes. He was born in Detroit, Michigan and grew up in Ohio, where the rural surroundings of his childhood subsequently inspired his artwork later in life. Farms and barns are prevalent in his work.
Most of Billy's watercolor paintings are faithful renderings of actual locations in Ohio and Pennsylvania. His painting career has its roots in folk art. Billy's rural landscape prints have garnered a great deal of acclaim over the past decade. His distinctive, folksy style is infused with timeless charm.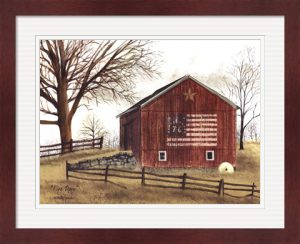 In Flag Barn, a weathered red barn stands in the stark winter landscape. Split-rail fencing and an earthen ramp bordered by a stone wall that leads up to the barn. The side of the barn sports a Bennington flag, which proudly displays the thirteen stars and stripes of the original American colonies.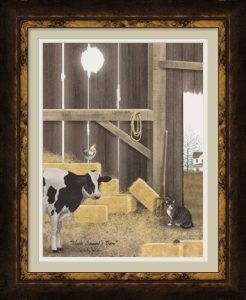 Uncle Sammy's Barn is rich in subtle detail, a moment is frozen in time inside the barn. Look out through the open doorway and you'll catch a glimpse of a modest white farmhouse in the distance. A barn cat and a Holstein cow eye up a clueless mouse, as it saunters along on a bale of hay in the foreground. A proud rooster stands watch over the doorway. The post and beam barn frame and rough siding are rendered in detail, as daylight streams through gaps between the vertical planks. There's plenty of hay to be had, but the boards are sorely in need of battens.
A familiar trio returns in Morning's Glory, with a weathered red barn and a WORD white farmhouse in the background and a split rail gate in the foreground of this warm and inviting print. With a mound of white morning glory flowering along the fence line and leaves on the trees. A male eastern bluebird perches on the fence post. This is clearly a summertime scene, which presents a welcome contrast to Billy's propensity for winter landscape paintings.
Check out our growing collection of Billy Jacobs Prints!