An excellent way to celebrate Black History Month involves recognizing Black Art and our African American Artists. FramedArt.com is honored to feature wall art by these artists on our site.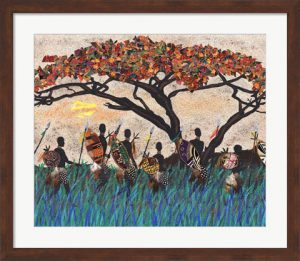 Encouraged from a very early age by both her parents and teachers to pursue a career in art, Monica Stewart has become nationally recognized for her cultural art, prints, and posters. Creating art using a variety of mediums, she enjoys exploring the human experience in her work. Her fluid depiction of dancing figures painted on Egyptian palm frond paper brought her national popularity and recognition among her fellow artists. See Soulful Grace I-IV and her Motion series among many of her other works in our collection. 
Born in Pennsylvania, Keith Mallett always knew that he would become a professional artist. After receiving formal art training in New York City, he was the in-house artist for Frontline Art Publishers, had his work chosen for the cover of Chicken Soup for the African American Soul, and was commissioned to design the official limited edition print commemorating the 50th anniversary of Jackie Robinson's historic breakthrough into major league baseball. Listed among his clients are Random House, HarperCollins, Houghton Mifflin, Lennox Collections, Franklin Mint, New York Graphic Society, and Hallmark Cards. Patterns in Ebony, On the River, and N'Awlins are among his popular works that we feature.
Gil Mayers chose to do jazz art because it is interesting, impulsive, and melodic. Art and architecture have always been of interest to him, and he uses art as a means of communication. He wants his work to be inspiring and innovative; he enjoys creating things that get people to think rather than just accept. He is more interested in putting on paper things that people find interesting than in just getting images that are representational. See his Jazz Singer, Jazz Messenger, Basin Street Blues, and many others at Framed Art.
Framed wall art by Alonzo Saunders is easily recognizable because of the way he expertly combines color with texture. A multi-media artist who paints on canvas using pastel, oil, fabric, and acrylic, Saunders is noted for his distinctive versatility and style. His eclectic work reveals his sensitive nature and his spiritual depth. The artist uses his talent and eye for color in cultural art pieces like his Ethnic Vases and Tribal paintings, and the stunning female portraits in his Woman Strong series.  
FramedArt.com
Find a wide selection of black and cultural art pieces by these and other African American artists as well as canvas, prints, and framed art for all your cultural or other art needs at FramedArt.com. Choose from our wide selection of black art prints in a large assortment of sizes, colors, and styles to decorate your walls in celebration of Black History Month. Ready to frame art is delivered directly to your door and backed by our 100% Satisfaction Return Policy.