Need a ten minute trip to the seashore? FramedArt.com has it covered! Our galleries are packed with gorgeous beach photographs and we've selected some of the choicest spots in America. While this list of ten amazing American beaches is slightly biased towards the East Coast, it goes light on Florida. Hawaii's boasts some of the world's most irresistible beaches and we've included three of our favorites. Custom framed beach photographs bring the vacation home 24/7. Browse our beach art collection and find your favorites!
Outer Banks of North Carolina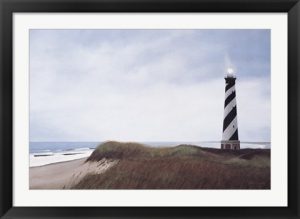 The Outer Banks consists of a string of barrier islands that run along a 200 mile stretch of ocean, from North Carolina to southeastern Virginia. The Cape Hatteras Lighthouse (located on Hatteras Island) is one of America's most famous lighthouses, with a beacon that's shined for over two centuries. While there's a good number of hotels, motels, and resorts in the Outer Banks, private house rental is the best way to experience the islands on your family vacation.
Cape Cod, Massachusetts
The New England coast has been a favorite bipartisan retreat for American Presidents, from John F Kennedy and George H.W. Bush, through Barack Obama. This gorgeous photograph looks northward along the coastline towards the Cape Cod Lighthouse (Highland), in North Truro, Massachusetts. Our Cape Cod Framed Art gallery contains over sixty entries, in a wide range of mediums and styles, from panoramic and aerial photographs through vacation posters and retro advertisements.
The Beach at Sarasota, Florida
Sarasota plays host to some of the most highly acclaimed beaches in Florida. This panoramic photograph captures a flock of seagulls at Lido Beach on St. Armands Key in Sarasota Bay. The gorgeous white sand beach is a playground for dozens upon dozens of happy seabirds under a beautiful blue sky, as gentle waves lap at the shore. There are so many wonderful beaches in Florida, we had a tough time picking just one.
Kapalua Bay, Maui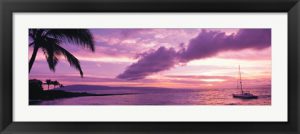 This remarkable sunset over Kapala Bay on the North Shore of Maui is one of the most relaxing entries in the Panoramic Images catalog. The sweep of purple, orange, and gold is truly breathtaking, with a large palm at the left foreground and an anchored sailboat at the right that set a romantic mood. "Maui is the best," or as they say on the island, Maui no ka oi. Our Maui Art gallery contains well over 200 images. Stop in and take a mini-vacation to the Pacific. The boss won't mind …
The Hamptons Beach, New York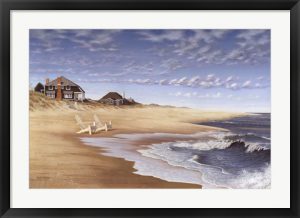 This idyllic rendering of Hampton Beach by Daniel Pollera is just one of over 1500 entries in our extensive Hamptons Beach House gallery. A pair of Adirondack chairs sits empty at the water's edge, with classic Hampton bungalows tucked behind the sand dunes. The Hamptons are among the most idyllic and exclusive beaches on the East Coast.Spend a bit of time browsing the pages and you're sure to find the perfect piece to bring the Atlantic ocean to your home.
Coronado Island, California

This retro Coronado Island Ad by Lantern Press takes us back in time to a place where things weren't nearly as complicated, and the pace was far more relaxed. Coronado Island sits off the coast of San Diego, in Southern California. The Hotel del Coronado is a true gem and one of America's most iconic oceanfront resort hotels. It was built in 1888 and designated a National Historic Landmark in 1977. This retro beach poster is as sweet as a California dream.
Cape May, New Jersey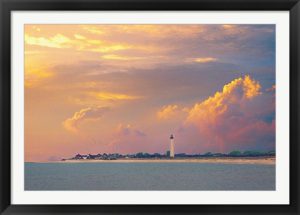 Cape May is one of the true gems of the Jersey Shore, filled with gingerbread Victorian homes, steeped in history. This breathtaking photograph of the lighthouse at Cape May by John Rivera captures the sunset in all its magnificent glory. The FramedArt.com gallery features over thirty works by John Rivera along with a growing selection of Cape May photographs and artwork in a wide range of styles.
Kauai, Hawaii

While Kauai is less populated than Oahu and Maui, it is home to some of the greatest beaches in the Hawaiian Islands. This gorgeous golden sunset photograph captures the magic hour at the perfect moment, with the sun ready to slip below the horizon. A silhouetted row of palm trees stands in stark contrast to the sky. There are more than three dozen images in our Kauai Art gallery, including a healthy selection of panoramic photographs.
Oahu, Hawaii
The iconic pink Royal Hawaiian Hotel dates back to 1927 and is one of the most familiar landmarks on Oahu's world-famous Waikiki Beach. Nestled between the Sheraton Waikiki and the Outrigger Waikiki, the luxurious five-star Royal Hawaiian is steeped in history. Our Oahu gallery is packed with over 130 gorgeous photographs, with a wide array of vistas.
Oregon Coast
This splendid retro-style travel poster promises the dream of an endless summer, heading down the coast with your boards strapped to the roof of a classic Volkswagen Bus, catching waves, camping on the beach, for weeks on end. You'll find dozens of Oregon Beach images in our growing collection. "We're waxing down our surfboards, can't wait for June … "