Salvador Dali (1904-1989) made his mark on the world with his wild Surrealist paintings, which he described as "hand-painted dream photographs." He is among the most instantly recognizable artists of the twentieth century, notorious not just for his work, but for his a one-of-a-kind persona and impeccably styled mustache.
Notable Dali Artwork
For most folks, it's all about the melting clocks and The Persistence of Memory (1931), is Dali's most popular painting. You can find it on display at New York City's Museum of Modern Art (MoMA).
Time is the theme here, from the melting watches to the decay implied by the swarming ants. Mastering what he called "the usual paralyzing tricks of eye-fooling," Dalí painted this work with "the most imperialist fury of precision," but only, he said, "to systematize confusion and thus to help discredit completely the world of reality." There is, however, a nod to the real: the distant golden cliffs are those on the coast of Catalonia, Dalí's home. – MoMA Learning
Dream Caused by the Flight of a Bee Around a Pomegranate (1944) was Dali's first work to feature an elephant with flamingo legs.
Impressions of Africa (1938) is a self-portrait of Dali at work.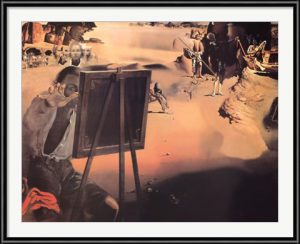 Apparition of Face and Fruit Dish on a Beach (1936) is a multi-dimensional still life.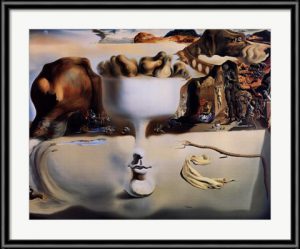 Atavistic Vestiges After the Rain (1934) pays tribute to modern sculptors Hans Arp and Henry Moore.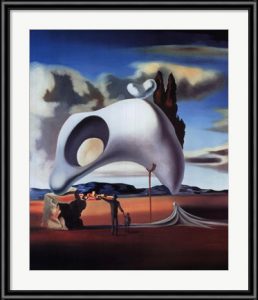 Dali's Life and Work
Salvador Dali's full name was Salvador Domingo Felipe Jacinto Dalí i Domènech, Marquis of Dalí de Púbol. He was born on May 11, 1904, in Figueres, Catalonia, Spain. His art studies began in Madrid and Barcelona. But it was introspective travel that brought him fame. Dali's work was a product of his subconscious mind, which he tapped via self-induced hallucinatory states. While he gained fame through his surrealist work, his style changed in the late 1930s and he followed more commercial pursuits. Dali passed away on January 23, 1989, in the very same town in which he was born.
Ready for a walk on the wild side? Browse our extensive gallery of Salvador Dali Prints.