A fire crackles in the fireplace, and Sinatra's holiday classics flow smoothly from your speakers. Your home is ready for holiday hosting. The only thing missing? The perfect holiday kitchen art to get you and your guests in a festive mood.
Have you ever noticed that your kitchen becomes a popular hangout during holiday gatherings? The warm lighting and inviting smells often lure guests in the direction of your cooking space. Make your space more inviting with framed holiday art.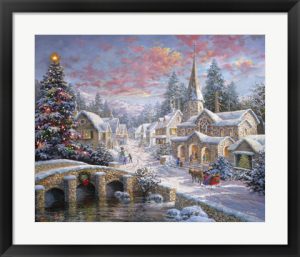 May All Your Christmases be White
Even if you don't have a white Christmas where you live, you can create one through the perfect holiday scenes on your walls. It's the night before Christmas, and the view outside your kitchen window is ridden with dead grass and a cloud-covered sky.
Solve this problem by creating your own outdoor scenes, not inside of the windowpane, but inside of a picture frame! A Fine Winter's Even by Nicky Boehme is the image you wish you had on the other side of the glass. A white Christmas is only a click away!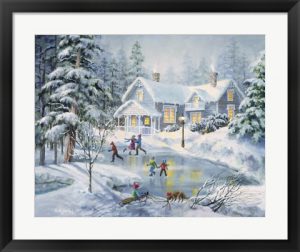 Here Comes Santa Claus
Santa usually restricts his holiday visits to the living room, but why not invite him into the kitchen? Santa makes a great cooking companion. He'll even remind you not to be naughty when you're tempted to sample your strudel a third time!
Santa Claus art comes in a variety of sizes and styles. Even though we have yet to snap a photograph of the real Santa, our selection of paintings, drawings, and multi-media pieces featuring jolly old St. Nick won't disappoint.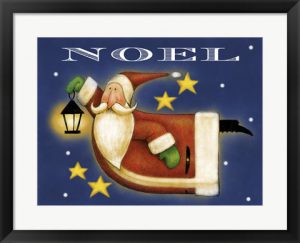 Merry Christmas, Ya Filthy Animal
If you're looking for something more modern (or a little less reverent), consider a framed holiday movie poster! Every family has a favorite holiday movie. Whether you're a National Lampoon kind of household or need a reminder that It's a Wonderful Life, movie posters are the perfect bit of framed nostalgia.
For a few kid-friendly options, consider the imaginative image of The Polar Express, or the heartwarming Miracle on 34th Street. For a vintage look, choose the Christmas That Almost Wasn't, and take a trip down memory lane!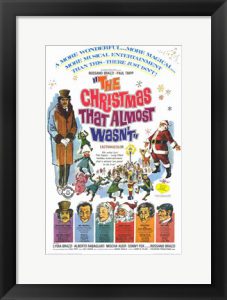 Happy Holidays from FramedArt.com! Enjoy time surrounded by family and the perfect framed art!