What turns a house into a home? What makes a living space a place where people can flourish and grow? A lot of it has to do with what you put in that space. After all, we tend to become what we see. Thus, if you wish to be an inspiration to others, you must fill your home with things that inspire you. Thankfully, Framed Art has your back! Our collection of inspirational wall hangings is more than enough to meet your needs. Here are a few of our favorites.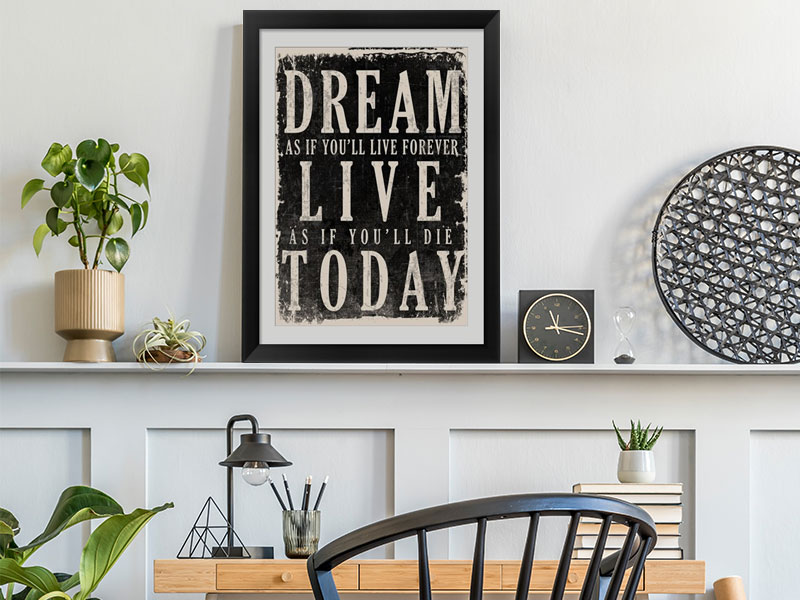 5 Inspirational Wall Hangings You Can Use to Decorate Your Home
Blooming Thoughts II
Life is made up of little moments – moments that we too often let slip by without making the most of them. It takes time and intentionality to learn gratitude for the little things of life. When you practice this habit, however, you will find that you can truly live life to the fullest.
These beautiful, inspirational wall hangings by Janelle Penner help us do just that. The beautiful wildflower pattern reminds you to live in the moment, not worrying about the past or the future, but contentedly growing where you have been planted. Paired with the flowers is the quote: "Enjoy the little things." This is the perfect piece for a bedroom or bathroom – somewhere where you can see it as you are waking up in the morning and be reminded to be grateful for the little things that day. 
Peacock Garden VIII
The message this artwork gives is simple yet crucial: "Be bold and beautiful." You have so much to offer the world, so don't hide! After all, a peacock does not hide his beautiful feathers – he flaunts them! Sometimes, it is easy to be discouraged when you look at the world around you. There is so much rudeness and unrest and ungratefulness in the world. It is hard to be different – to be kind and thoughtful when other people aren't. But that is exactly what the world needs. The world needs you! So show your true colors, put yourself out there, and your beautiful self shine. 
Joy in the Journey
This is a perfect piece for those adventurous, quirky souls out there. Dawna Barton brings you above the clouds with a whimsical painting of hot air balloons rising into the sky. This makes the perfect complement to the simple yet inspirational phrase, "Find joy in the journey." Everyone knows that hot air balloons do not travel fast. But they do travel high, and the view is worth every minute. Life is about the journey, not about the destination. And this beautiful artwork is a good reminder of that.
Inspirational Collage: Believe 
Some days it is easy to have faith. Other days, it is difficult and you might find yourself wondering why you are a believer in the first place. On those hard days, it is so helpful to have encouragement right in front of you – in your own house. This simple yet profound collage reminds us of an important truth: "Everything is possible if you believe." All you need to do is take one step at a time to move forward. And these inspirational wall hangings will help you do just that. This is a great piece for you if you are a religious or spiritual person.
Great Things
We all want great things in our lives, don't we? How can you achieve these great things? Van Gogh has some words of wisdom for you: "Great things are done by a series of small things brought together."
As a painter, Van Gogh certainly knew what he was talking about. It takes hundreds of single brush strokes, thousands of smears of color, to create one great painting. That one painting, however, is worth every bit of effort. So, like Van Gogh with this whimsical night sky painting, you too can put effort into small things. Because, after all, small things turn into great things.
This is just a tiny sampling of the inspirational wall hangings we have available to you! Check here for our entire collection of inspirational art – which amounts to almost 5,000 items! And remember, Framed Art is always here for you as you seek to turn your house into a haven where beautiful things can thrive.