You spend untold hours every month, loading and unloading the washing machine and clothes dryer, not to mention ironing, folding and hanging the family's clothing, towels, and linens. Why not bring some sunshine into your day with a fresh collection of framed laundry room art? Our curated collection will help you spruce things up in record time.
.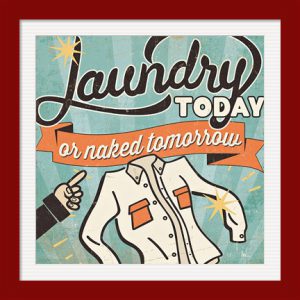 Laundry Room Artwork: 10 of Our Favorites …
Whether you're looking for vintage advertisements, chalkboard art, pop art, or whimsical illustrations, FramedArt.com has it covered. Here are ten of our favorite pieces in this category.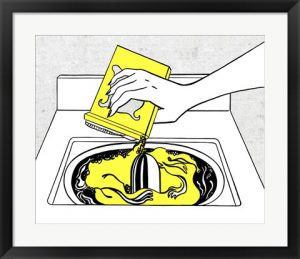 Roy Lichtenstein's trademark comic book prints earned him a spot as one of the most influential Pop Artists of all time. His Washing Machine print is bold, crisp, and graphic with a limited color palette. It pairs nicely with a range of pop art pieces.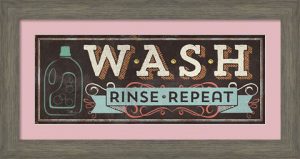 Pela Studios Laundry Day I and Laundry Day II (shown above) make the perfect pair. Rendered in a classic chalkboard style, they bring a cool retro vibe to your walls with three-dimensional chalk-like lettering and pinstripe flourishes. This painstaking attention to detail makes Pela's The Cleaners I one of our most popular pieces in this category.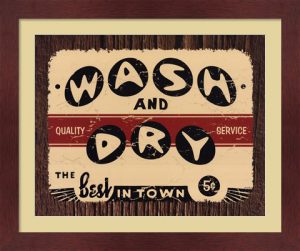 If you're aiming to add a mid-century look to your washroom walls, Paulo Viveiros artwork just might be the magic ticket. Paulo specializes in retro signage with an authentic look. Most noteworthy, Paulo's marvelous Wash and Dry and Laundry pieces look like they've been plucked straight out of a 1950s laundromat.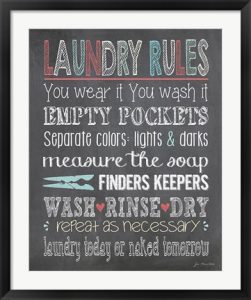 The FramedArt.com galleries offer a vast collection of Jo Moulton's artwork and her chalkboard series are among our most popular pieces of word art. Laundry Rules is one of our favorites.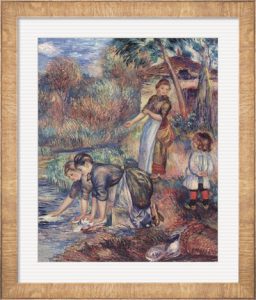 Think things are tough these days? Take a gander at Pierre-Auguste Renoir's Washer Women from 1889. Be thankful you don't have to bring your laundry down to the river's edge to beat it against the rocks to get it clean.
Vintage advertisements add whimsy and style. The Vintage Apple collection includes a bounty of artwork suitable for display in a laundry room, like this marvelous Swiss Laundry Ad.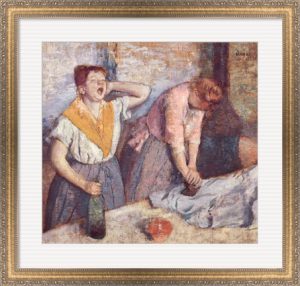 Falling asleep while getting the wash done is no one's idea of fun. Edgar Degas' classic Girl at Ironing Board and Laundresses  (shown above) will make you thankful for all of the modern conveniences.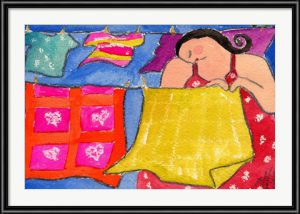 Bring a vibrant splash of color and whimsy to your walls with Wyanne's effervescent Big Diva. Choices include Big Diva Getting Laundry Before The Storm, and Big Diva Hanging Laundry To Dry (shown above).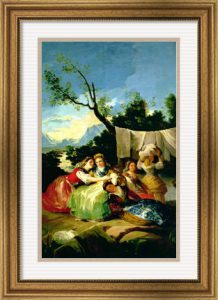 Francisco De Goya's classic The Washerwomen dates back to the 18th Century is offered in a range of sizes thanks to our digital printing technology. This piece brings a dreamy and peaceful calm to wash day.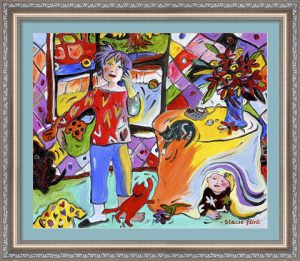 Stacie Flint's Laundry Again pays homage to every hard-working mom that's faced the never-ending cycle of washday after washday with this bright and beautiful piece. The kitties paw at the tablecloth while junior hides underneath and the gorgeous vase of flowers is frozen in a moment of time.