Our new "Behind the Frame" series will highlight the history behind some of our favorite works, starting off with the legendary Andrew Wyeth.
Few realist painters can rival the haunting style of Andrew Wyeth. Wyeth's stunning watercolor and tempera paintings were rich with color, as well as intrigue. His mysterious, yet shockingly real compositions earned him fame as one of America's best-known realist painters of the 20th century.
Much of Andrew Wyeth's inspiration came from his rural surroundings in New England But his perspective, medium, and lifestyle all contributed to works of art that were far from normal.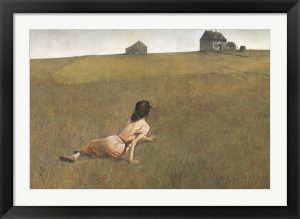 Andrew Wyeth's Artistic Beginnings
Andrew Wyeth was the fifth and youngest child of Caroline and N.C. Wyeth, born on July 12, 1917. The family lived in Chadds Ford, Pennsylvania. Andrew's father was a renowned artist and illustrator, and Andrew, along with three of his other siblings, were also interested in art from early childhood.
When he was young, Andrew Wyeth was often sick. When he contracted whooping cough, his parents became increasingly concerned about his fragile health. They decided to homeschool him. Andrew spent all of his time in their Pennsylvania home, except for in the summer, when they would visit a summer home in Maine.
It was clear from an early age that Andrew was a talented artist. Before he could read, he could draw. He was chosen by his father to assist him in his professional life, creating illustrations with him, side-by-side.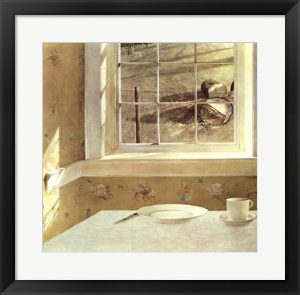 Andrew Wyeth's Magical Realism
As Andrew grew older and developed his own style, he leaned heavily on his rural surroundings. His subject matter often fell among the fields and old farmhouses. But despite the mundane subjects and the decidedly realistic style, Andrew Wyeth's paintings were different. The scenes he depicted were far from predictable. Many of his paintings still leave viewers with a sense of "uncanniness," even to this day.
Because of these unique traits, many art critics call Andrew Wyeth a Magic Realist. Magic Realism refers to art that illuminates the often subtle strangeness of everyday life. Other painters that fall into this category include strange or unlike objects in their works, or like Wyeth, seem to merge the present with the past.
Wyeth often employed skewed vantage points or unique perspectives, leaving his paintings unbalanced and almost surreal. He partnered these interesting artistic whims with painstakingly controlled brushstrokes, and extraordinary attention to detail. The combination is mysteriously breathtaking.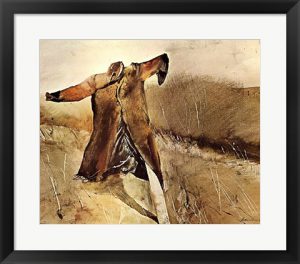 Andrew Wyeth's Lifestyle and Medium
Though many modern artists chose to work with oil or acrylic paints, Andrew Wyeth chose the less-popular media of watercolor and egg tempera paints. He often used a dry brush to create a unique surface texture for his works.
Andrew Wyeth also chose a less typical lifestyle, for an artist in a rural area, at least. His daily life was quite secluded from the very beginning, but that didn't stop him from staying dialed-in to the modern art world. Andrew made sure that he followed the progression of contemporary art, and stayed in touch with the movement in thought and philosophy. Though many of his paintings appear to be simple depictions of his rural world, he actually explores deeper, more probing subjects. He also painted many nude paintings, and boldly explored sexual themes.
Andrew Wyeth's art remains popular. His intentional lifestyle kept him progressive. His meticulously chosen media remains visually stunning. Finally, his clearly apparent talent brings it all together in timeless, classic pieces.